There's been fashion rumours bubbling since last month that Face Melt singer, Rita Ora, is the new face of Madonna's Material Girl fashion collection and it turns out this gossip's officially true (we love it when that happens).
Rita has signed a lucrative $500,000 (£319,000) deal with Madge and her daughter Lourdes to front the campaign.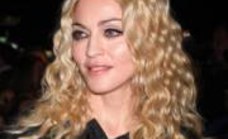 Miss Ora took to Twitter to share her excitement with her legion of fans aka Ritabots: 'Joining forces with Madonna and Lola. It's official Ritabots - I'm the new face of Material Girl.'
With Rits turning her hand to fashion and after Cara Delevingne belting her lungs out on stage with Rita at the DKNY Art Works event it seems the starlet is swapping roles with her top model 'wifey'. Could a musical collaboration be next on their to-do list?
Only days ago it was reported that the inseparable duo will team-up with Topshop for a fashion line and now Rita has landed her dream campaign with Madge. What a week it's been for Rita.
Madonna said of her new campaign star: 'Rita is a talented beauty but what really drew us to her is the confidence she oozes through her music and her unique sense of style. On stage or off, in photos or on the street - she's a magnet! This is what the Material Girl brand is all about!'
We all know how much Madge loves a smidge of red lippy and her rock 'n' roll fishnets so it's no wonder she picked the princess of the rouge pout herself.
The full campaign will launch in July just in time to get some last minute festival fashion inspiration.
Think Rita was the right choice? Tweet us @sofeminineuk to tell us what you think!