Matt Smith can't wait to see Peter Capaldi take over as the next Doctor Who.

The current Time Lord has been talking about just how exciting it will be to see the Thick Of It Star in the role.

The two even went to lunch so Matt could pass on some Whovian wisdom.

The 30-year-old admits, though, that he couldn't really give Peter any tips as he's already such a talent actor.

Matt will leave the show and regenerate into Peter's form in the Doctor Who Christmas Special.

He spoke at the GQ Awards after party about their lunch date.

He said: "I really rate Peter - he's such an amazing actor and completely right for the part.

"We went out for lunch to talk Doctor tactics. I'm not sure if I gave him any real ideas because it's not like he needs much help.

"He'll play the Doctor in his own way - and do it brilliantly.
"I can't wait to see what he does with the part."
Most people may not be so excited about the prospect of dying at the hands of Cybermen, but Matt's ready for it.

The actor has been working on a film in the US - with Ryan Gosling directing - and will continue with plans to break into Hollywood after he's left the show.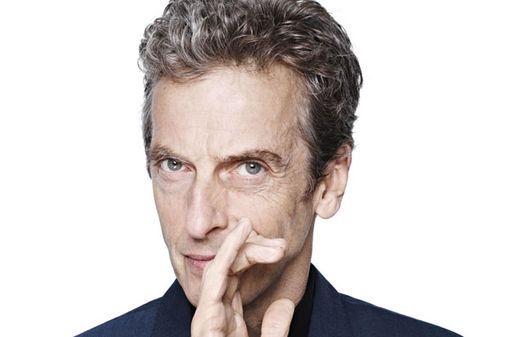 © Getty
Peter Capaldi
Photos emerged earlier in the year of Matt rocking a very different look on set.

He was sporting a shaved head and edgy, scruffy clothing - not a bow tie in sight.

It has been revealed that Matt has been wearing a wig to film scenes as the Doctor in upcoming episodes.

Despite most fans applauding the choice of casting, some younger audience members complained about Peter's age.

At 55, he is obviously much older than both Matt Smith and the Doctor before him, David Tennant.
Show creator Stephen Moffat spoke to The Guardian to let these young'uns know that if they're looking for buff bods and quaffed hair, they should look elsewhere.

He said: "I've seen some Twitter traffic from, I guess, some younger viewers who were moaning about him not being young and pretty.
"But this isn't X Factor! This isn't Big Brother or Made in Chelsea! This is the world's best, longest-running sci-fi drama!"
But don​'t worry - for those who are looking for that sort of thing - X Factor's back now and Made In Chelsea is on its way!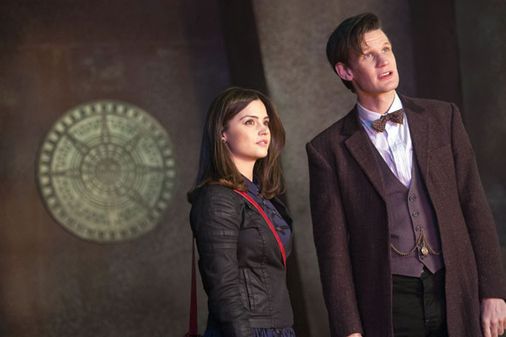 © BBC Pictures
Matt Smith and Jenna-Louise Coleman