The designs wouldn't look out of place in Beth's stage wardrobe, with bold prints, sequins, prom dresses and pairs of plain or swirl print leggings that Beth describes as "life-changing" because she's always found it impossible to find ones that fit her curves properly. "I'm so proud of these!" she said. "These are going to be life-changing. See, if you're fat the waistband should come up here, all the way up to under your breasts, so you feel secure and you get a smooth line. Not necessarily held in, but like nothing's going to be weirdly squeezed out."

Beth had to convince Evans that some of her ideas would work, but she got her way eventually: "Even the stores for big girls get it wrong. With some of the designs, the people from Evans were sceptical but I was like, 'Trust me.' Then the model put it on and they were like, 'Oh, I get it now.'"

Available at bethdittoatevans.co.uk.
Sarah Horrocks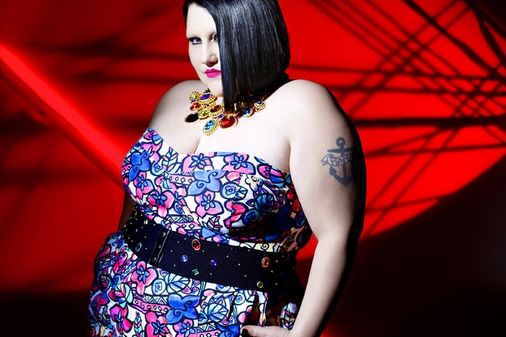 © Evans
Beth Ditto designs plus-size range for Evans