Personally, we've always been pro Christmas jumper but for all those of you that need a little convincing that festive knits can be fashionable, we've got just the thing.

Ten outfit changes, a whole lot of side eye from the shop assistant and what must have been about 1,000 calories later (our arms still haven't recovered), here's 10 chic ways to style your Christmas jumper. To all the Grinches out there... prepare to be converted!
Outfit 1: Day
Round number one goes to a new and improved gold sequinned Rudolph. We teamed this super soft knit with a textured black skirt and tights and ankle boots for a wearable, cosy and most importantly comfy daytime outfit. Well those mince pies have gotta go somewhere!

Top tip: We tucked the front of jumper into the skirt on one side to taper in the waist and create a more flattering silhouette.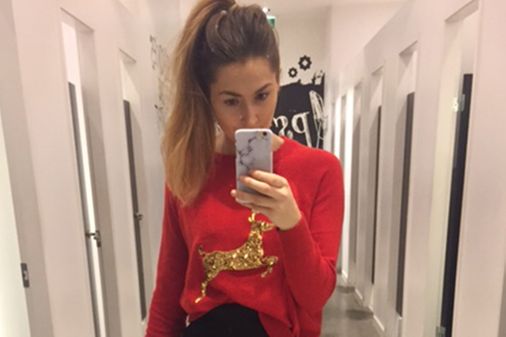 Outfit 1: Night
By night, we ditched the sensible black thang and doubled up on the glitz with an equally sparkly pencil skirt to match our festive knit. Do H&M know how to do Christmas or do H&M know how to do Christmas?

We still stuck with the tights because, well, we were still warming up to the whole idea of taking selfies in the big changing room mirror for everyone to see.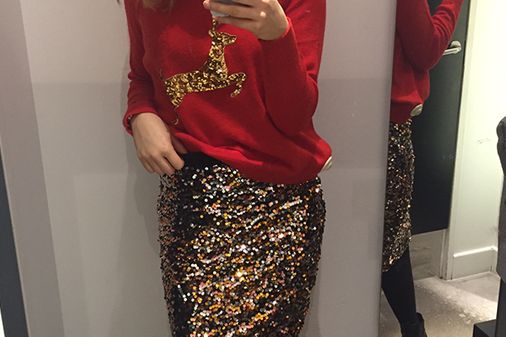 h&m christmas shopping
Outfit 2: Day
Think a crisp winter's walk in the woods: Layered up with a faux fur gilet and a rusty red wool blend fedora, this look is all about texture play. Also known as keeping warm.

This black mistletoe jumper was the most wearable of the bunch. Just as easy to throw on with your jeans as it is to pair with your maxi skirt for a mulled cider or three. Mum, if you're reading this, all I want for Christmas is a festive jumper with a mistletoe on the front. It looks like this. Thanks.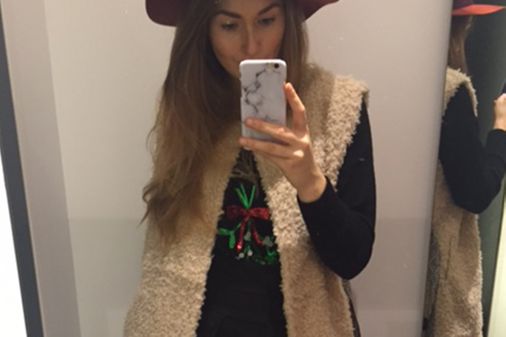 h&m christmas shopping
Outfit 2: Night
For an evening outfit change we grabbed a leather jacket and this amazing Studio structured fishtail maxi skirt which, now my sister mentions it, does make me look a smidgen like a mermaid. Living the dream!

The leather biker jacket kept an otherwise quite formal outfit from looking too done up and a little more effortless. Paired with some black kohl liner and messy textured hair... who knew the Christmas jumper could be so Debbie Harry.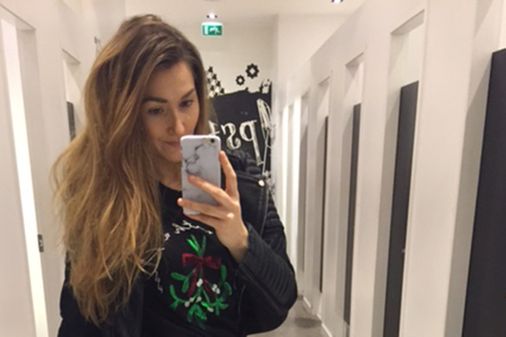 h&m christmas shopping
Outfit 3: Day
Ok, so let's be realistic. If you're holding off until December to make your festive knitwear debut then you're gonna need to learn to love jackets and coats. Which shouldn't be a problem with this Studio Collection woven jacket. Swoon - we felt like the best dressed stable boy around.

Underneath, we styled it up with a little bit of penguin love. Cute eh! Now would be a pretty good place to admit that we ended up buying these trousers. They were khaki and they were £7 ok. Three hours of trying on clothes, crazy stares from the majority of the British public and getting dead coat hanger arm... you'd have to be a stronger person than me to not to treat yourself at the end of that shopping marathon.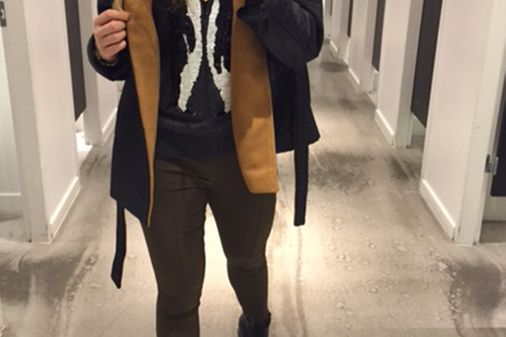 h&m christmas shopping
Outfit 3: Night
And for night, we unleashed the glitter, like duh, by slipping into this sparkly wrapped jumpsuit complete with faux fur stole. Whaddayaknow, the Christmas jumper is swiftly becoming our winter staple. See what you get when you let a girl run free in a shop for hours. Gok, I hope you're proud.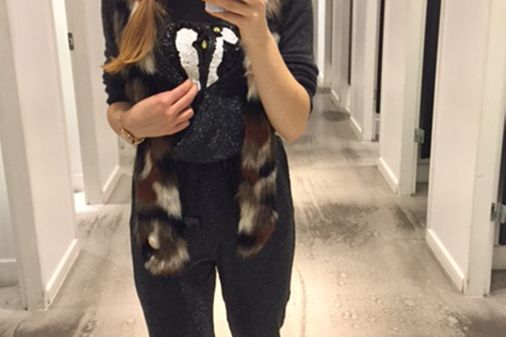 h&m christmas shopping
Outfit 4: Day
No Christmas would be complete with a rocking Robin now would it? We teamed this fella with some dark flared jeans, brown ankle boots and a grey beanie. Snug. As. A. Bug. Top it of with some arm candy and you'll be set to do the Winter Wonderland circuit.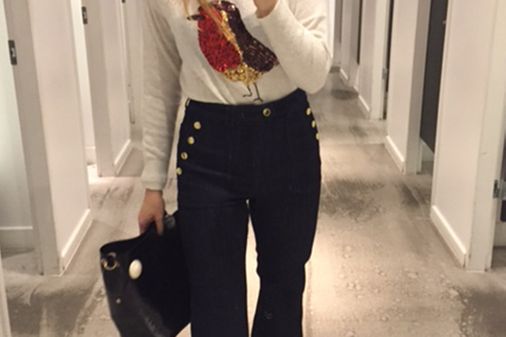 h&m christmas shopping
Outfit 4: Night
There seems to be a running theme throughout this process and that's glitter. Oh and sequins. To take this look well into cocktail territory, we went for these glittered trousers (yep, they're back!), a tasselled bag in a gorgeous berry hue and a fluffy black gilet. So, it's not the most glamorous, dressed to the nines kind of get-up but it's the perfect #ootn for relaxed Christmas tipples with the girls. And should you fancy a boogie later, that's when the glitter pants can step in.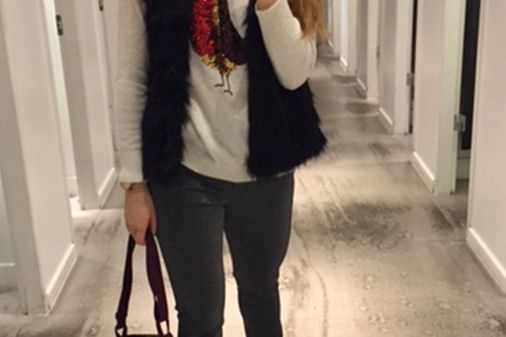 h&m christmas shopping
Outfit 5: Day
For the final look we couldn't resist trying on the elfie selfie jumper. Didn't we save the best 'til last?! For an easy, low maintenance, day-time look we went for simple black imitation suede trousers and a big ol' winter jacket to sink into. Now it feels like Christmas.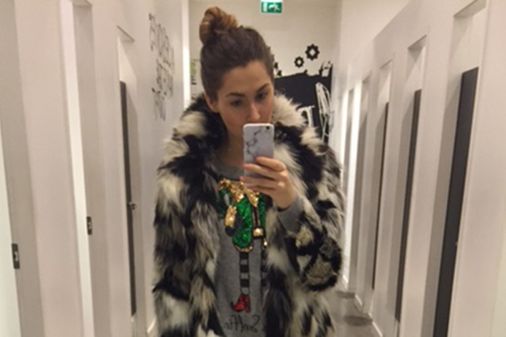 h&m christmas shopping
Outfit 5: Night
We went with the grey and black work vibes, sans the tights - wahey, told you we had to work up to it! We got hold of this tasselled mini and blazer combo to create an effortless outfit with a hint of tailoring. Top it off with a black clutch and heels of your choice or opt for a trusty pair of heeled ankle boots for the ultimate off duty ensemble.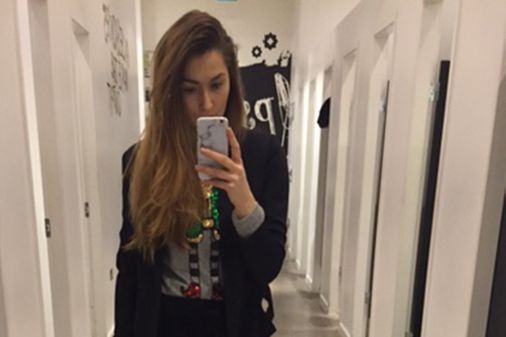 h&m christmas shopping
All outfits H&M.
This article was written by @LareeseCraig, follow her on Instagram!
How will you be wearing your festive knit this Christmas Jumper Day? Tweet us @sofeminineUK!
You might also like:
H&M Gift Guide: The Presents You Really Want
I Let My Boyfriend Dress Me For A Week & Here's What Happened