On Sunday evening we sat down, me slumped on the bed assessing how mortifying this whole experience is gonna be on a scale of 1 to 10, Joe smugly scanning my wardrobe.

The first thing he pulls out is this pair of structured pale pink culottes from Topshop. CULOTTES. There's me thinking all men found them repulsive.
They didn't make the cut in the end. Not because he was violently sick all over them or anything, but because they were rose pink and rose pink didn't go with my pastel purple blouse that he had laid out next to it did it? Who am I to stand in the way of this budding Gok Wan?
He's taking this whole thing really seriously and I hate to say it but he's actually been taking note of what I wear. Major brownie points. I was thinking he was gonna be packing me off for the morning commute in leopard print and knee high boots.
But then he gets his hands on a teeny tiny black playsuit (he thinks it's a dress), turns to me and says, "Babe have you got any of those like secretary glasses..." Ah ha there it is! I knew he had think-with-his-penis potential.

I tried to coach him a little. And by a little I mean a lot, "Oh so this is work appropriate is it? Well pervy, smirky train guy (me and Joe commute to and from work together every. single. day) is gonna think his luck's changed."

The hint being: hems must fall below the knee, skirts come with tights and my low fat aka non-existent boobs? Firmly away.

For the most part he listened to my advice - I'll let you decide which one he fell short on.
Note: He genuinely did this with no intervention on my part. Whatever he wanted me to wear, I had to go along with.
Here are the results.​
Outfit 1: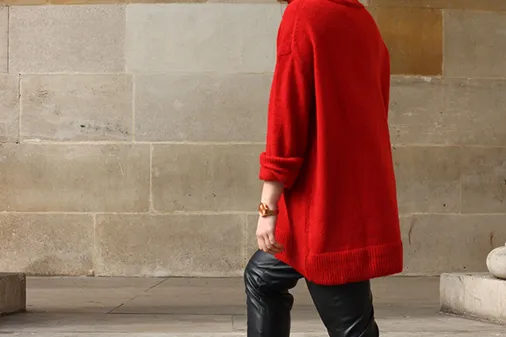 My Boyfriend Dressed Me For A Week & This Is What Happened
Jumper, Trousers: Zara
Shoes: Primark
Watch: Olivia Burton
Outfit 1: Joe's verdict
"I wanted to go for a relaxed look, but still smart enough to turn up to the weekly meeting. I liked the oversized red jumper. Ideally, I would have gone for some leggings, but apparently leggings worn as see-through trousers aren't work (or daily life) appropriate. I made do with some tight leather pants and some smart, comfy heels."
Outfit 1: How I felt wearing it
I was pleasantly surprised with his first outfit choice. I have a weakness for oversized knitwear so I was more than happy to snuggle into this on a miserable Monday morning. I love how he styled it with a block heel and leather trousers rather than jeans. I find it hilarious that he thinks they're tight when they're secretly hanging off my arse under that massive jumper. Day one? Impressed!
Outfit 2:

my
Hat: Primark
Jumper: Topshop
Jeans: Jeans
Shoes: Converse
Outfit 2: Joe's verdict
"If I'm being honest I thought I'd try putting Lareese in something she isn't used to wearing to work. Some ripped jeans, a low cut top (Where's that then Joe?!) and a baseball cap certainly achieves this. Perhaps this one should be saved for a 'mufti day' but I think she looks pretty cool!"
Outfit 2: How I felt wearing it
Ok, so it's a little more B Ball game than I'd care to dress but I can see where he was going with this, minus the low cut top that's actually most definitely a jumper.

I assume this look is probably down to me banging on about sports chic all too often. If the baseball cap didn't look like it was Chessington World Of Adventures merchandise then I would probably be up for wearing it.

I certainly don't feel girly or remotely sexy though. I usually dress really feminine (I love dresses) or I go for simple layers in multiple shades of beige/black. At the moment anyway! My style is always changing so Joseph does have his work cut out.
Outfit 3: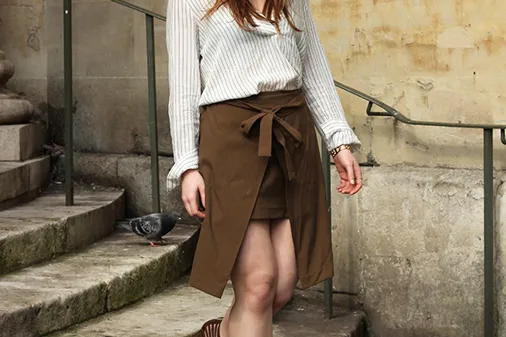 My Boyfriend Dressed Me For A Week & This Is What Happened
Hat: Topshop
Shirt, Skirt, Shoes: Zara
Outfit 3: Joe's verdict
"This is actually my favourite look of the week and perhaps my most daring. I really like this wrap around skirt but I had no idea what to put with it. I must have changed the top about 10 times. To take some attention off what I thought could've been a fashion nightmare, I threw in a large purple hat. All in all I really like Lareese in this."
Outfit 3: How I felt wearing it
Coming from a purely vain place? The legs. Seriously. He made me debut them in frigging MARCH after I've hidden them away from society like a mad woman in an attic for months. So gross. BUT the clothes, that's what this is about. The boy did good! I love the colours he's gone for and the wrap skirt and blouse combo.

There was one minor boob though. The button on my blouse has come off so I was hoping that by telling him this news he would do the logical thing and pick something else but no such luck. With no time to sew it on I had to let it all hang out on Regent Street in the light of day. PS the skirt could really do with an iron.
Outfit 4:
Glasses, Coat: Primark
Top: H&M
Jeans: Topshop
Shoes: Zara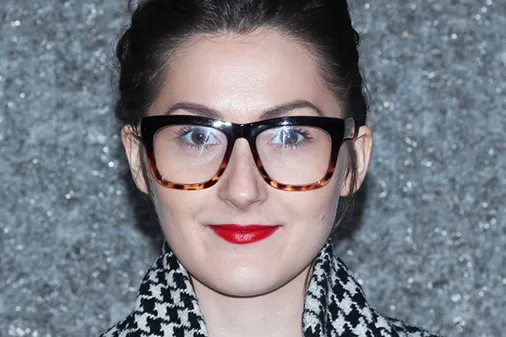 My Boyfriend Dressed Me For A Week & This Is What Happened
Outfit 4: Joe's verdict
"So I found this new blue blouse in her wardrobe and I instantly knew what to put it with. Her favourite blue shoes! Throw in some skinny black jeans and you've got the perfect work outfit."
Outfit 4: How I felt wearing it
I've recently bought this blue frilled shirt from H&M. It reminds me of Victoria Beckham's cloud dress. It's not the most flattering silhouette or as Joe described it 'wooooh' (with some kind of kinked out hand movement) but I kind of like that it's not trying to be sexy. I could ditch the geek chic glasses though. I've been through that phase once already and no one needs to see that again. Sadly Jess from New Girl I am not.
Outfit 5: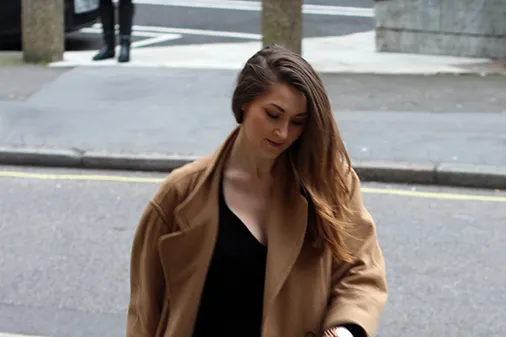 My Boyfriend Dressed Me For A Week & This Is What Happened
Coat: Charity shop
Playsuit: Zara
Shoes: Primark
Outfit 5: Joe's verdict
Joe's verdict (PS he still thinks it's a dress and even feels confident enough to call it an LBD).

"My thinking behind the dress was that Lareese could go to work looking smart and respectable, but would be ready for the after work drinks. I really like the LBD I picked out. Maybe it's not totally season appropriate, but with the high heels and dress together, I think she will be feeling pretty confident about herself!"
Outfit 5: How I felt wearing it
He was doing so well up til now so he was due a slip up. Bare slap skin legs, hints of cleavage. What he wanted was Kimmy K. What he got was high street hooker. The ONLY blessing is that he let me wear a coat. I tried to convince him that it would be bearable with tights but he said open toe shoes don't go with tights and he would be very right.

Had I of had time to fake tan the pins and change into this after work it would have been fine but a 7am commute to central London? You've got to be kidding me. I felt ten types of uncomfortable all day.
What have we learned? That even if he doesn't know his LBDs from his cheek-skimming playsuits, he knows his way round my wardrobe better than I thought, outfit number 5 aside.

The guy who lives in sheep skin sling back slippers and holey Jack Wills sweatpants did good.
Would you let your boyfriend dress you? ​
This article was written by @lareesecraig follow her on Instagram!
You might also like:
30 #GirlProblems Men Will Never Understand
23 Guy Problems Women Will Never Understand