The wait is over, Kate Moss has made her debut as a Playboy bunny in a first look pic from her dare-to-bare photo shoot.
In June, her hairdresser let slip that she had been posing up a storm for fashion photographers Marcus Pigott and Mert Atlas but it wasn't until September that Playboy confirmed the hot gossip.
The London It girl is set to appear in the January issue to mark Playboy's 60th anniversary but just when you thought you'd have to wait until 2014 to see her bright eyed and bushy tailed, this happens.
She's got down on all fours and bunny tailed-up for her editorial with Playboy and boy does she look fierce at (nearly) 40.
Most women couldn't think of anything worse than stripping off for their 40th birthday but that's exactly what super Kate Moss is doing.
Cue the curved back, bedroom eyes and feline glance, nothing is beyond Mossy not even velveteen cuffs, bunny ears and sky high stilettos.
Hugh Hefner said: "She's a worldwide celebrity and iconic and crosses the boundaries from sexual imagery to upscale modelling. It's a natural for us."
The December issue is out next Friday featuring Kate's first Playboy image but we'll have to wait till January for the grand unveiling.
Check out more bare-all editorials from Miss Moss! She's certainly not shy about taking off those clothes!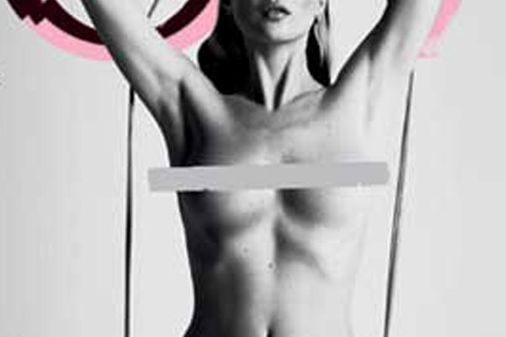 © Kate Moss Playboy
First look at Kate Moss as a Playboy bunny
How do you rate Kate Moss' Playboy bunny shoot? Tweet us @sofeminineuk