Let's set the scene. It's Milan Fashion Week, it's his debut as Moschino's new creative director and everyone's willing him to pull it out the bag... of course Jeremy Scott's going to do anything to get his column inches.
Sending a McDonalds inspired collection down the runway might have been a little too avant-garde for the first timer but he certainly delivered the perfect slice of on-your-toes fashion. Or did he? Not everyone seems to agree.
Fast food employees have struggled to see the funny side of Moschino's AW14 drop, claiming it makes a mockery of the minimum wage earners.
Mia Brusendorff, a former McDonald's worker in Indiana, said: "Knowing someone will pay $1,000 for clothing inspired by McDonalds' workers who earn minimum wage is a mockery."
She has a point! The red quilted leather bag (a nod to the Happy Meal) is priced at £759 - hardly minimum wage friendly.
Another McDonalds' employee said: "I know the poor environment a minimum wage employee works in, and for people working in the highly paid fashion world to think it's "trendy" to wear clothes inspired by the uniforms we put on every day to feed our kids, or to buy a designer bag that is a parody of the meals we serve to earn enough money just to pay our bills; well, it just makes me sad."
A fast food mocker he may be but no one can accuse him of playing it safe!
Was Jeremy Scott's McDonalds parody distasteful? What's your verdict? Join the debate @sofeminineUK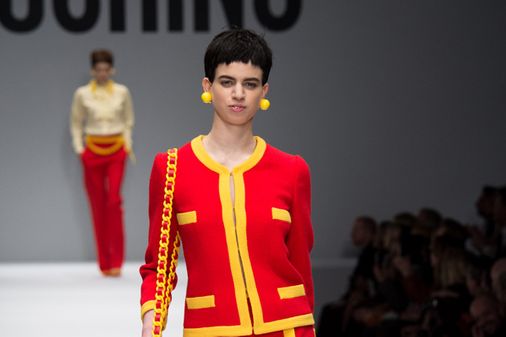 © Pixel Formula
Moschino In Fashion Food Fight! Designer Accused Of Mocking Minimum Wage Earners