We totally empathise with you small-breasted women out there. Growing up as the awkward girl sat around waiting for your boobs to grow as every busty gal bagged the popular boys wasn't fun for anyone. We felt your pain.

But the great news is that school is over; you're a fully-fledged woman now, and you're ready to conquer the world.
​Plus, once you move away from adolescent boys you quickly realise that having small boobs has some serious perks. There's a reason why most models are flat chested; a small chest makes for MAJOR fashion freedom. We're here to give you the style hacks that will instantly change the way you dress forever!

Here's what you should be wearing with your modest breasts.
Your Small-Breasted Shopping List
Crop Tops
​Printed Bottoms
Plunging Necklines
Padded/Push-Up Bras
Short Skirts
Belts
Ruffled/Embellished Tops
Join The Crop Top Craze
Ahh, there's nothing like a convenient distraction, and crop tops provide just that. By revealing your midriff, they take attention away from your bust and set eyes firmly on your toned tummy.

Just when you thought you ran out of reasons to hit the gym! Now hit those crunches!
Get It In Print
Who doesn't love a bold and vibrant print? Don't be afraid to test out patterns in pants, skirts, and shorts. It's just another opportunity to shift focus onto the assets you're ready and willing to flaunt.

If you're a gal that usually skews simple, now's your chance to shake things up.
Take The Plunge
One of the biggest perks of having smaller breasts is the freedom to rock plunging necklines. Women with a bigger bust run the risk of coming across too racy the more they dare to bare.

However, as Mila Kunis clearly exhibits, there's an ample dose of sex appeal peppered with class when a lady with modest boobs takes the plunge.
Embellishments Are Everything
Want a little more on top? Go for sequins and ruffles. This adds an extra element to your ensemble, and is an effective way to take attention away from an area of insecurity.
Short Skirts Galore
Who cares about breasts when you have legs that run on for miles? Chop away your hemline and let the world take a glance at your gorgeous gams.

Zoe Saldana nails the look and leaves us envious!
Get The Belt
Belts are something every woman should have in her style arsenal. For the lady with a pair of small boobs, cinching the waist helps to give the illusion of an hourglass figure. If you really want to up the ante, opt for a wider belt.
Get Pushy
We kid you not, padded and push-up bras are tiny magical gifts sent from heaven. They're essentially your best friend. In the blink of an eye you can go from an A-cup to a full C. We know it sounds tempting. So just go ahead and hit up your local Victoria's Secret... Like NOW!
IMPORTANT! Read These Small Breasts Fashion No-Nos....
If you're a woman with a smaller bust, it'll serve you some good to stay away from these items.


Oversized Tops
​Sweetheart Necklines
Wrap Dresses
Bandeau Tops
Check Out These Small-Breasted Girls For Fashion Inspiration: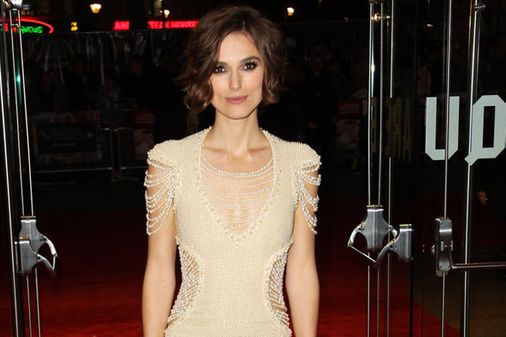 © Getty
Keira Knightley
Do you have any style tips for women with a small bust? Share them by tweeting us @sofeminineUK
You Might Also Like: