With so many fashion myths floating about in the style-sphere it's difficult to know which ones are worth investing in. So, to put our minds at rest we've tried and tested a handful of shape slimming, waist-defining, height maximizing wardrobe weapons.
Whether you're an apple, a pear or even a papple (that's a pear/apple) these six flattering fashion essentials apply to every body shape so there's no 'I can't wear that' excuses.
Our style artillery contains vertical prints, statement scarfs and plenty of tailoring...
The high heel
First up is the humble high heel - a must-have wardrobe item for every fashion savvy woman.
A simple black court shoe is the equivalent of the full stop in the fashion world. A classic point not only elongates the leg but it also underlines the outfit, bringing the eyes focus back up to the torso.

Gail Pointed Court
RRP: £58.00
Available from Topshop
Optical illusion dress
Optical illusion dresses come in all colourways, but the trick is creating a narrow panel down the front to trim some width from either side.
Vertical patterning creates a streamlined silhouette from the torso through to the thigh. We love this banana tree print.

Banana Scoop Back Dress
RRP: £29.00
Available from Topshop
Skinny jeans
Don't be shy about embracing the skinny jean - you don't have to be a size six to get away with them!
A skinny jean is a wardrobe staple and any body type can wear them. It's all about finding the right proportions. Stylist Isobel Kershaw gave us a handy tip when buying skinnies: "If they feel comfortable when you try them on go down a size." It may sound scary but actually going a size smaller will ensure you don't end up with a baggy skinny jean - which is not a good look.

Moto Soft Grey Skinny Leigh Jeans
RRP: £38.00
Available from Topshop
Pencil skirt
The pencil skirt is set to be your new best friend when it comes to giving you a shape to be proud of.
Every woman needs a waist-defining feature in her wardrobe and you can't go wrong with a pencil skirt. They're great for hourglass figures such as Kelly Brook and Holly Willoughby but they're just as handy for creating curves in all the right places. A high waisted pencil skirt is always more flattering.

Pencil Skirt
RRP: £14.99
Available from H&M
Scarf
A strategically placed scarf is your secret weapon in dressing yourself slimmer.
If you're bottom heavy or big in the bust, drawing the eye towards the neck and face is essential. Try a spicy scarf or a statement necklace to draw attention to your best bits.

Japanese Print Scarf
RRP: £19.99
Available from Zara
Tailored jacket
A tailored jacket is great for squaring up the shoulders and nipping in the waist for a more flattering silhouette.
Isobel Kershaw says: "Change up your top and jacket lengths to break up the pieces you're wearing and draw you in at the waist. And try rolling up the sleeves on a work jacket for a more relaxed weekend look."
​
Long Seamed Blazer
RRP: £79.99
Available from Zara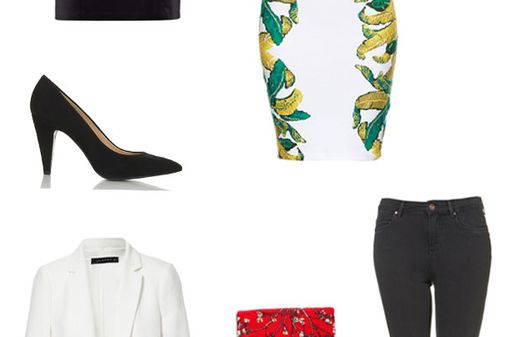 © Topshop Zara
Six flattering wardrobe essentials every woman needs