What is an eyeliner?
Eyeliner is a cosmetic product that allows you to emphasise the edges of your eyelids and the shape of your eyes.
By combining with mascara or false lashes, eyeliner works to elongate the eyes and make them appear larger and more open.
A good lashing of mascara and a sweep of eyeline creates drama and, depending on the amount you use, gives a very 'done' look.
Some women find applying eyeliner very challenging and it easy to get wrong. Follow our step-by-step guide on how to apply eyeliner and learn how to master the technique perfectly.

How to choose an eyeliner
- Colour
Eyeliner is often black. Classic and glamorous, this colour can be used for all occasions: for daytime or evening make-up. One of its advantages is that it adds depth to the eyes... with a simple line!
However, if you choose a different colour, you should avoid using the same colour as your eyes. Combining the colour of your eyes with the colour of your make-up tends to give the colour less of an impact and it intensifies any lines on your face.
Blue eyes should avoid blue, green eyes shoufd avoid green, etc.
The exception is brown. Women with brown eyes are flattered by brown, taupe and natural shades.
You can apply blue or green eyeliner to brown eyes in the summer. And in winter, you can apply plum, brown or navy blue tones to warm up pale eyes.
Sparkly liners go through phases of fashion but they're great for parties.
- Texture
Eyeliner can be found in pencil, kohl, liquid and gel form.
If using kohl or pencil you need to make sure that your eyeliner is well sharpened so you can choose how thin you want it to appear. It should also be soft enough to not drag or damage the eyelid when applying.
Liquid liners are available in both brush and pen form (like a felt tip). Liquid eyeliner has the advantage of avoiding clumps when applying it and often it goes on smoother. You end up with a more precise line, however it's more difficult to smudge liquid liner with kohl and pencil.
Gel liners come in a pot and are painted on with a thin brush. They have similar qualities to a liquid eyeliner but are preferred by make-up artists.

Day make-up with eyeliner
Eyeliner lends itself perfectly to everyday make-up.
For day make-up, choose a liquid pen-style eyelliner for a thin, precise and neat line. You can also achieve this with a finely sharpened kohl pencil.
The way you apply your eyeliner depends on the shape of your eyes:
- If your eyes are round: emphasise the eye by lining the top lid only going from thin in the inner corners to thicker in the outer corner.
- If your eyes are almond-shaped: draw a line up to the inner corner of the eye, making it thicker in the middle.
- If your eyes are very small: line your upper lid but only the outer half of your lower lid.

How to apply eyeliner for daytime
The best technique is to start at the inner eye and go towards the outer eye, then raise the height of the eyelid to prevent the eye from appearing to droop.
At the end of the line, leave the natural shape of the lid and take the line upwards slightly. This technique enables you to open your eyes up.
Do not simply ring your natural eyeline as this can be unflattering and eyeliner should be used to actually balance and improve the shape and size of your eye.
To refine the line and create a smokey effect, blend slightly with a brush or a sponge. Highlight the outer corner, still blending it.
For an even smokier and more intense result, add a touch of light by applying a bit of shimmering eyeshadow to the inner corners with your fingers or a brush.

Evening make-up with eyeliner
Eyeliner provides a great deal of intensity for evening make-up. If you want a smoky look, apply a dark eyeshadow under the eyeliner and blend it up to the brow, use a lighter colour between the brow and the eyelid.
Stretch the eyelid out to the side and apply a thicker line over the eyeshadow accentuating the outer corners with subtle flicks.
Line half way under the lower lid as close to the lash line as you can get.
Evening eyeliner should be more dramatic so also line the inner lower lid but beware of going to close to the inside corner as this can cause clumps to gather there.
Eyeliner tips:
- draw the line in one go to avoid trembling.
- if using a liquid, shake your eyeliner beforehand so that the pigments are well dispersed.
- stretch out your eyelid to prevent unsightly creases and obvious dividing lines from forming.
- close your eyes and let it dry, especially if you have small eyelids!
You might also like...
Top ten make-up brushes
How to use eyelash curlers - video guides
How to fix your skin problems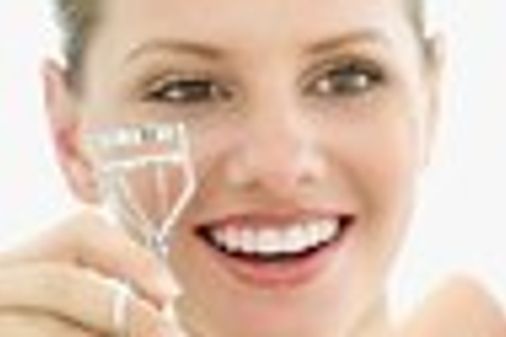 eyelash curlers