Is Kelly Brook getting over Thom Evans by partying with convicted murderer?
Every girl knows the best way to make your ex jealous is to spend time with another man, but Kelly Brook seems to be getting it all wrong.

The newly-single model is mending a broken heart after her recent split from her boyfriend of two years, gorgeous rugby star Thom Evans, 27.

She's flown to Florida to take part in a swimwear photo-shoot for her New Look bikini range and brought a group of girl pals along with her for the trip.

While she's enjoying everything Miami has to offer, the 33-year-old has found herself her own personal tour guide, who incidentally is also a convicted murderer.

The former Britain's Got Talent judge hasn't been shy about her budding relationship with club owner and former gangster Chris Paciello, even publicly tweeting him to express gratitude for his hospitality.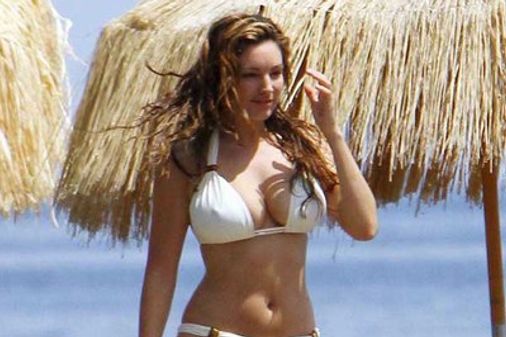 Is Kelly Brook getting over Thom Evans by partying with convicted murderer?
She posted on Twitter: "Thank you to a true Miami Legend taking care of me and my Friends this week @ChrisPaciello1 xx."
He responded: "It was truly my pleasure. You girls are amazing xx"
The 41-year-old was previously sentenced to 10 years in prison, following a Staten Island gang robbery in 1993 that resulted in a housewife being shot in the head.
Chris was the getaway driver during the fatal burglary and after being caught he pleaded guilty to charges of murder and armed robbery.
While in prison he helped put away 70 top criminals by feeding information on key figures in the Mafia to the FBI and after serving seven years he was released and began investing in nightclubs.
During his trial he was bailed for $10million by his girlfriend at the time, Modern Family star Sofia Vergara.
He's also been linked to former Aussie soap star Natalie Imbruglia and singer Jennifer Lopez, plus he Madonna in the 1990s.
Chris now runs Story nightclub, but in February last year he had another brush with the law after he was stopped by police on suspicion of drunk driving.
He was caught speeding at 80mph in South Beach, Miami, and when he was pulled over a policeman reported: "There was a strong odour of alcohol on his breath, and he had watery eyes."
Following this incident Chris released a statement, which said: "I regret the mistakes I made in the past.
"I am working hard to make a positive impact and to build a new life for myself in Miami."
Fingers crossed Kelly - who's previously dated actor Jason Statham for eight years and called off her engagement to Titanic's Billy Zane in 2008 - isn't lining up Chris as her next love interest.