Madonna rates J-Lo's "nice ass" and other pop rivals' sexy assets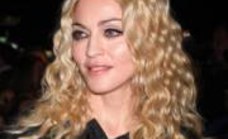 These days Madonna seems to be in the press mainly for her attention-seeking antics and feuds with fellow popstars, namely Lady Gaga and Elton John.

But it looks like age might have finally mellowed the 54-year-old pop veteran as she's been uncharacteristically complimentary about her fellow female popstars.

The Queen of Pop was on Ellen DeGeneres' talk show where she marked up a score card rating her pop rivals' bodies and, ahem, other talents.

Madonna appeared to have a lot of love for her fellow female singers, although like the majority of men around the world her focus was mainly on the derrières of pop's finest.

The mother-of-four was particularly complimentary about Jennifer Lopez and Nicki Minaj's famously full rears, deeming that the pair both have a "nice ass".

Madonna Hyde Park
Rihanna left the Girl Gone Wild singer tongue-tied, as she admitted to the talk show host: "I like her too. I feel like I should be saying something more eloquent. She's sexy."
But Madge didn't just focus on looks, admitting that she personally thinks chart-topper Beyoncé has an "incredible voice".
Although she didn't say the same of Britney, who she famously snogged at the 2003 MTV Video Music Awards.
Madonna instead deemed that the pop princess' biggest talent doesn't involve her singing because she's a far better "kisser".
Never one to shy away from putting her guests in the hot seat, Ellen forced Madonna to say some kind words about her two pop foes and the Material Girl singer was shockingly diplomatic.
She managed to compliment Lady Gaga, who she previously accused of copying her famous 80s hit Express Yourself to create her recent song Born This Way.
The controversial singer said to Ellen: "I know everyone is waiting on the edge of their seat for this one... good voice."
As for Sir Elton John - who recently called her a "fairground stripper" - Madge tersely replied: "Nice ass".
It's not clear whether she meant his actual bum or if she was calling him donkey.