During pregnancy your body goes through a lot of changes, especially your torso. While your insides are busy creating a baby your outsides have to accommodate a rapidly changing body shape which can put a lot of strain on your skin.

Stretch marks are something that seems to go hand in hand with pregnancy with up to 70% of women suffering from them. But it doesn't have to be that way. While often stretch marks are hereditary (if your mum got them then you might too), not everyone suffers from them and there are several things you can do to minimise their appearance or prevent them altogether.
How to prevent stretch marks during pregnancy (or at least try to)
1. Start moisturising your skin on a daily basis from the moment you discover you're pregnant. Your skin will need as much elasticity as it can get so starting your oiling/creaming habit in the first trimester is not a moment too soon.

2. Drink lots of water! Staying hydrated is not only good for you and your baby, it's also good news for your skin which will be in better shape to stretch sans stretch marks.

3. Use natural products.
4. Don't just focus on your bump. Make sure you apply thoroughly on your breasts, hips and bum as well.
5. Exercise regularly as this will help keep your circulation pumping and will mean your skin is performing better.
6. Stock up on stretch mark prevention products and pray.
The best products to prevent stretch marks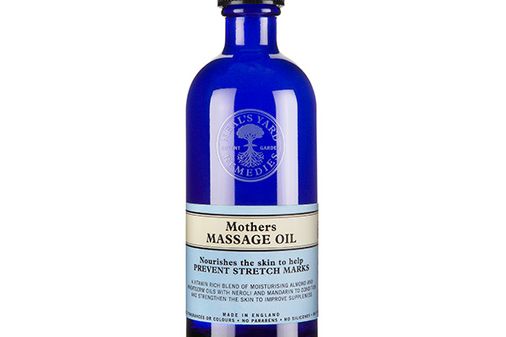 © Neal's Yard
Mother's Massage Oil
1. BioOil
BioOil is one of the first words you'll start hearing when you're preggers. First it will be whispered to you by mummy friends or colleagues, then pretty soon it'll be strangers singing its praises as they look at the size of your rapidly growing bump.

Made with PurCellin Oil which helps hydrate and soothe all manner of skin conditions, it's main claim to fame is its ability to keep skin supple during pregnancy to help prevent stretch marks.

The Vitamin A, Vitamin E, calendula, lavender, rosemary and chamomile oils all smell incredible together and thousands of women swear it was their (not-so-secret) weapon against stretch marks. What's more it's only £13.33 from Boots, which means there's no excuse not to try it! Our tip? Try buying it from MultiVits for even better deals!
2. SilDerm
If you're serious about stopping all signs of stretch marks then stock up on SilDerm - but prepare to pay. This skin protecting oil is formulated especially for mums to be and comes with scientifically proven results that it can significantly reduce the formation of stretch marks.

That's enough of a guarantee for me, but it will set you back - £32.00 per bottle and if you're as generous with your application as I am it really doesn't last that long.

Still, apply it and allow it to sink in first, when you pay this much you want your skin (not your clothes) to get the benefits!
3. Trilastin
Another product that just falls short of actually promising mark free tummies, boobs and bums is TriLastin's Maternity Stretch Mark Prevention cream. It's magic powers include giving skin extra elasticity to be able to stretch without tearing. It also relieves any itchiness, is paraben free and is made with 15 botanical oils and extracts.

My fave thing about this? It absorbs really quickly and won't leave any greasy residue behind.
4. Neal's Yard Mother's Massage Oil
If you're looking to go natural with your stretch mark prevention product of choice then stick to natural oils rather than creams. Neal's Yard's Mother's Massage Oil retails for £19.50 and is completely paraben free and is made with specially chosen oils to help tone the skin and prevent those pesky lines from forming.

Made with soya and almond it's a simple but effective formulation and naturally boosts your skin's elasticity.
5. Aleva Stretch Mark Cream
This stretch mark product from Aleva Naturals is for your whole torso and your thighs. It sinks in quickly and has a strong menthol, lavender scent and lots of skin-loving ingredients thanks to the shea butter, olive oil and soy protein. It's also perfect for toning up your skin after pregnancy as well as during.
6. Mama Mio Tummy Oil
Made with skin strengthening omegas 3, 6 and 9 MamaMio's Tummy Rub Oil for mums to be should be used all over the torso, from breasts to bum to give full coverage and protection against stretch marks. For best results they recommend continued use as your tummy shrinks back after pregnancy. I love the way this smells, the bottle is really well designed for fuss free application and it sinks in quickly while keeping your skin smooth.
7. Palmers Cocoa Butter Massage Lotion For Stretch Marks
For the smaller budget you can try Palmers Massage Lotion For Stretch Marks which is only £3.20 at Tesco! I love this cream. It makes you smell like chocolate, absorbs well, makes your skin feel ultra smooth and hydrated and because of its elastin, shea butter, cocoa butter, almond oil and argan oil ingredients you feel like you're doing your skin a whole lot of good.

Many women swear Palmers helped them to keep stretch mark free - and the science backs them up - Palmer's clinical trials found that skin elasticity improved in 97% of test subjects which means it definitely makes your skin that bit more supple.
8. Mustela Double Action Cream
This cream makes some bold claims. The kind of claims that could get a girl seriously excited/hopeful. Appaz, during clinical trials 96% of expectant mothers said they didn't develop stretch marks during their pregnancy after using Mustela Double Action Cream.

That is a HIGH number people. Hence I have been using this cream religiously. It's made with naturally derived ingredients to keep skin elastic and promotes cell renewal and regeneration of the skin. A sofeminine fave.
9. TEN Stretch Mark Cream
Almonds are the magic ingredient when it comes to this rich cream by TEN. Their Stretch Mark Prevention and Reduction Cream is made with sweet almond oil which is rich in skin nourishing vitamin E and minerals like magnesium. With antioxidant rich shea butter and avocado oil your skin will be beautifully moisturised - plus it smells nothing short of divine.

Slather every morning and evening to keep skin happy and to reduce the chance of getting stretch marks.
10. Remescar
Remescar Silicone Stretch Mark Cream uses a silcone formulation to protect skin from stretch marks and to help give vulnerable skin more strength. It nourishes and balances the skin's natural PH and works to keep skin extra hydrated. It has a plastic-y smell though so not one to use for the experience, this is a results focused lotion ladies.
What did you use to prevent stretch marks during pregnancy? Tweet us @sofeminineUK!
You might also like:
7 Reasons All Adults Should Get On Board With The Colouring Book Trend
From Skin Smoothing Glycolic Acid To Acne Busting Salicylic Acid! 10 Of The Best Acid Exfoliators
50 Beautiful Girls With Freckles