To calm your nerves
We have been drifting off to sleep to the calming and comforting scent of the Monique Hart Range all week now - the aroma of lavender, rose, cedar wood and geranium in the candle and the mist spray (for your pillow) gets rid of all of those grim stresses of the day and soothes the mind and senses. Seriously, it is SO chill.

RRP: £55
To spritz your troubles away
Michael Kors Sexy Sunset Eau de Parfum is getting us prepped for summer (we are SO ready.) It's the perfect escape scent from our dreary lifestyles at the moment, so if we can work while smelling like tropical flowers and imagining ourselves sipping Cosmo's on a beach in Bali, then that is just fine with us!

RRP: £39.00
To clear up your skin
The Makeup Eraser boasts that it can clear off all of your leftover evening makeup simply with water - AND IT IS AS GOOD AS IT'S WORD. Tried and tested by the SoFeminine team, this cloth will get rid of foundation, mascara, everything, without leaving so much of a hint of panda eye. We're obsessed.

RRP: £16.99
To challenge your mind
We're all about a good crime thriller with an unreliable narrative: Gone Girl, The Girl on the Train - there have been some belters in the last couple of years, and 2016's biggest crime thriller hit is bound to be The Widow by Fiona Barton.

The story follows Jean, a wallflower who stands tentatively by her husband after he is accused of the abduction and murder of a little girl, but is there more to her than what meets the eye?

RRP: £9.99
To make your skin happy
Give your poor January frayed skin a treat with the Elemis balancing lime blossom cleanser and just wipe those cold, dreary woes away with a couple of cotton wool buds!

RRP: £22.50
To glam up your nights
Topshop's bold and bright makeup is our new favourite thing, especially since the prices are so reasonable and yet the products are great quality. Our latest obsession is the Smokey Eye Palette in Subversives, which is basically just like Urban Decay's famous sets only without the price tag. Here's to giving high street makeup a good name!

RRP: £12
To perfect your makeup
If you are still using brushes to do your foundation and contouring, slowly put them down and step away. The Micro beauty blender gives your foundation a perfect airbrushed look, and can be used for all of your beauty needs. From highlighting to contouring, this is a must have item for your beauty bag.

RRP: £13.50
To keep an eye on your diet
Where do we even begin with these Fitbit Aria scales? Linking up to your phone with an app, the scales can track your BMI, lean mass and body fat percentage, can keep track of the weight of up to eight users, will let you set goals and is compatible with trackers, so if you go running or walking it will totally take it into account. It is the new generation of scales, so all we need to do to use them is erm...actually maybe visit the gym at some point!

RRP: £99.99
To have healthy skin AND look great
We have heard such great things about the BareMinerals Complexion Rescue Tinted Hydrating Gel Cream that we couldn't wait to try it ourselves. With such a light, healthy coverage to give you an added bit of glow, this might just be our favourite ever tinted moisturiser.

RRP: £26
To give yourself some 'me' time
Olverum (true oil) is truly a godsend. A few drops in the bath is all it takes to go from an angry stress machine to a zen goddess as you relax in the tub and get back to feeling like yourself.

RRP: £23.50 - £36.95
To rehydrate your skin from the inside out
Drink your skin back to health from within with the PureHA hyaluronic acid. It's a beauty breakthrough!

RRP: £29.95
Check out the rest of our January essentials...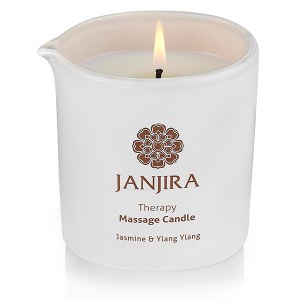 © http://www.janjira.co.uk/products/view/126/Jasmine_and_Ylang_Ylang_Therapy_Massage_Candle
How are YOU going to treat yo self this month? Tweet us @sofeminineUK!
You might like...
10 Of The Best Places To Have An All-Day Breakfast In London

Rainbow Freckles: The New Beauty Trend Guaranteed To Add A Little Colour To Your Life

Korean Skincare Routine: The Asian Beauty Products That Are Actually Magic!