Panicking over what shoes to buy to go with your dress? Bulk buying (and returning) several (hundred) pairs that you've bought online? About to go into a full on melt down? Don't worry. Finding the perfect wedding shoes is easy - when you know how. To give you a steer we spoke to the expert team at bespoke footwear brand Upper Street, who create shoes to your exact taste. They're used to catering for every possible bridal need, so are well-placed to offer some practical insight.
10 Things To Think About When Buying The Perfect Pair Of Wedding Shoes
Are they comfortable?
No one wants to be the bride that hobbles instead of gracefully working the room, so think about comfort and heel height.

Helena from Upper Street says, "If you're a heels girl don't be afraid to rock a pair of 4.5" platforms on your big day. Even if you aren't a heels girl don't be afraid to try! We spend a lot of time making sure our shoes are really well balanced and comfortable for you to wear all day and night! A 3" heel is usually gives you the best of both worlds marrying comfort and sex appeal beautifully."
Are they the right material?
We know every girl wants some kind of shoe statement on her wedding day, whether it's a long-lusted-after pair of Jimmy Choo's or sequin encrusted heels, most brides to be have an idea of the kind of look they want to go for. But then there's the question of what should you go for? Yep, boring as it sounds, you have to think about the practicalities too. Even with your wedding shoes.
If you're getting married outside on sand or grass then you'll need a pair of shoes that can withstand these terrains.

If you want to be able to wear your shoes again Helena says you might want to think about leather which is the most durable fabric for shoes.
Patent ​Equally, she says, "If you want white satin shoes for your wedding and are ok with them getting a little dirty on the day then that's what you should have!"
How much do they cost?
Ah yes, that small detail - try and set yourself a budget for your wedding shoes, and if you have to spend big somewhere always prioritise the dress! People will remember that a lot more!

If you want to see a cross section of everything that's on the market that fits your brief of, let's say, sequin white heels, then you can enter this on shopping sites like Fashiola and ShopStyle, set a budget and see everything in your range, all at one. Good trick right?

Even if you've only got a little to spend, remember you want your shoes to look and feel special - after all, wedding shoes get their own special photo shoot, so cheap and ugly clompers are a total no-go.
Think about your venue
Helena says, "Some brides can get so caught up in the design of their shoes and ensuring their comfort that they forget to consider whether or not their shoes, namely heels, are suitable for their wedding venue's dance floor. Some venues won't allow stiletto heels on their wooden floors, particularly in stately homes."

Always check with your venue first! If they have a no stiletto policy (boo to that!) then try a cone or block heel or come prepared with a pair of ballet flats that you can dance the night away in.
Think about your dress
The most important thing your shoes have to do is finish your outfit and work with your wedding dress.

Before you buy your wedding shoes you'll need to know how long your dress is to make sure you get the right heel height (you don't want to trip on your hem, but likewise don't want to wear such high heels that your dress doesn't hang properly).

If you're wearing a shorter style wedding dress you've got plenty of room to make a statement with a bold colour or head turning design - make a feature of your feet!
Consider your wedding theme
If you've got a strong theme then it makes sense that all elements have to work together. No matter if you're going for a sleek city wedding or a country barn style wedding, you're going to need keep this in mind when choosing your shoes.

Perhaps you can make a statement about the colour scheme by selecting a red pair of wedding shoes to go with your red floral scheme? The choice is yours, but think about the photos you want to create. Everything should work together.
When to buy your wedding shoes
Helena says, "We advise that you buy your shoes at least 4 months before your wedding day. Lots of brides forget that you need to have your shoes with you for your wedding dress fitting so that the seamstress can alter your dress accordingly."

If you decide to get bespoke shoes made for your wedding, Upper Street is by far the best place to go, just make sure you design and order them in good time.

Helena says: "Upper Street shoes take 3-4 weeks to arrive after your order has been placed and by ordering in plenty of time this allows us to make any necessary adjustments to the shoes, such as, fit or even complete design changes – which is a service we offer for free if you aren't completely happy with your shoes!"

Check out these heels from Upper Street for instant inspo!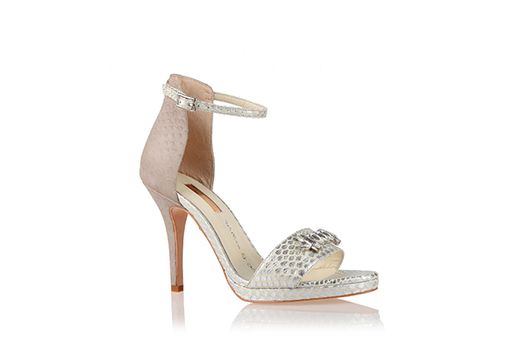 Wearing them in
It makes sense to wear in your wedding shoes prior to the big day - you don't want last minute blisters!

Helena has some great tricks to breaking them in properly.

1. Wear your new shoes with a pair of thick slipper socks and give your feet a quick blast with a hairdryer on the parts of the shoe that tend to rub such as the heel and across the toes.
​
2. Get an old pair of tights, cut them at knees and put them on over your shoes whilst you wear them around the house. This keeps your shoes clean and also hides them from your fiancé!
Pamper your feet
A pre-wedding pedicure is non-negotiable. It'll make all the difference to how preened and perfected you feel as you walk down that aisle.
Classic wedding pedis involve a French look or nude colours, but if your shoes or colour scheme requires a flash of something bright, your toes are a great place to make a nod to the trend! ​
Get inspired!
"Gather as much inspiration for your wedding shoes as possible – Pinterest is a great place for this! The more ideas you have about what you want the easier it is." Helena says.

Every bride who knows how it's done properly is basically Pinterest's BFF. These are some of our fave wedding shoe styles right now!
Check out these beautiful bridal dresses...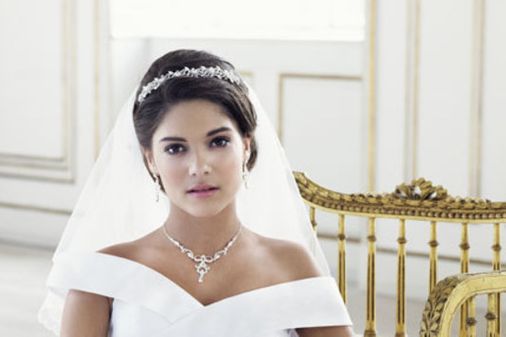 © Lilly Pure White
Wedding dresses: Beautiful bridal gown ideas
You might also like:
Bridal Style! 10 Images Of Beautiful Brides From Different Cultures
Bridal Inspiration: The Most Gorgeous Wedding Dress Trends For 2015
'I'm SO Excited' To 'Out Of Hand Hen Dos': The 22 Stages Of Being A Bridesmaid