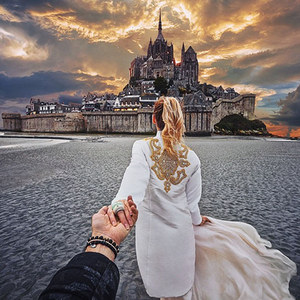 © https://instagram.com/muradosmann/
Here is the couple that routinely break our hearts by apparently living the idyllic life, travelling the world together and chronicling their adventures via Instagram. Now the pair have posted their most exciting trip yet – walking down the aisle!
It is the first picture where the pair aren't holding hands, with Murad reaching out as she reaches behind her. Dying right now.
The English section of the Instagram caption read: "#followmeto the wedding with my love @yourleo. I promise to hold your hand and tell you I love you every day for the rest of our lives."

As if their beautiful relationship wasn't enough, their wedding is the most glorious thing we have even seen. Check out the venue.
At least we know how they managed to afford flying around the world together. This pair is rich AF!
WE CAN'T EVEN TALK ABOUT THEIR FIRST DANCE RIGHT NOW WHO DOES THIS
Look at her glide down the aisle like she is walking on air!
We're not crying, you're crying.
Congratulations to this pair! Is this the dream wedding? Tweet us @sofeminineUK!
You might like...

18 Moments That Prove Nori Is Gonna Be The Cutest Big Sis Ever

Chris Pratt Just Endorsed Hunting And Shattered The Illusion That He Is Our Dream Man

Couples' Tattoos: Cute Or Just Plain Cringe?!