Once you turn 18, the thought of getting inked for the first time will inevitably cross your mind. With one in five British adults having at least one tattoo, being inked up isn't so much of a head-turner or job-ender anymore.
​Just consider all of the celebs showing off their body art, like Demi Lovato and the soaring birds on her arm or Rihanna and her hardcore tribal tattoo. Our traditional beauty standards are undergoing a serious transformation.
But while it may be tempting to run out and get the first tattoo that comes to your mind (hello future laser removals), it's important to prepare and consider the safety concerns that come along with getting tatted up.

We got the lowdown on how to prepare for your first tattoo from tattoo artist and owner of Three Kings Tattoo Matthew Marcus.

First of all, Marcus says it's important to find the right tattoo artist for you – someone who is passionate about their craft. "The people who are doing [tattoos] for you have put a lot of time into perfecting their craft," he explains. "Tattooing is not a job, it is a lifestyle. You have to love it."

And, seriously girls, do not let a friend ink you up. Just because they claim they're totally professional doesn't mean you won't end up with a nasty infection.

"Understand that good tattoos aren't cheap and cheap tattoos aren't good," Marcus says.

So how exactly can you prepare for getting tatted? Marcus filled us in step by step.
1. Do your research
There's a ton of options when it comes to getting a tattoo, which means you're going to have a bit of research to do.
"Once again, the wonderful thing about the Internet is that you can ​really do extensive research about a tattoo shop before even walking through the door," Marcus says. "If a place has a stellar reputation and lots of great reviews and a professional look to it, then you should have no concerns."
2. Ask questions
"Tattoo education is not common information and it is normal to have a lot of questions," Marcus ensures us. "When you go into a shop, you should be able to sit down with someone and ask them anything you want. Whether it be questions about design, sterilization or healing procedures, nobody should make you feel stupid for not being in the know."
3. Prep your body
As Marcus warns us, when you get a tattoo, your body's immune system "is going to go right to work." That being said, you need to take those extra steps to make sure you're feeling healthy and strong before a needle touches your skin.

Marcus recommends eating a good meal to make sure your blood sugar is up and to bring a bottle of water with you, or maybe two - some tattoo sessions last for multiple hours.
4. Check for cleanliness
"There are a lot of questions you can ask to put yourself at ease," Marcus says. Ask the artist how long the shop has been open, how many years they have been tattooing and if you can see the artist's portfolio. Also, ask to see the tubes and needles wrapped before your artist opens them."
​And, as Marcus says, "You have to use your best judgment. If anything about your situation makes you uncomfortable, then don't do it."
5. Have an open mind
Of course it's a good idea to come to the tattoo shop with an idea of what you want, but it's also vital that you trust your artist; they are the expert after all.
"We understand that most people have an exact idea on what they want their tattoo to be, but things don't always work out that way," Marcus says. "What works on paper doesn't necessarily work on skin, and our reputations are at stake if we give you a tattoo we know won't hold up over time."
Takeaway point: Comprising will land you a better tattoo. In some cases, the customer isn't always right.
6. Take care of your ink
Every tattoo shop and artist will have different ideas on what the best procedures are to heal your tattoo, Marcus says. While some may suggest that you keep it bandaged for a few hours, others say it's best to bandage it overnight. And although some artists prefer nappy rash creams, others like Aquaphor.
​
"Everyone's body is different, and some people heal better using one method versus another," Marcus says. Marcus tells his clients to keep their tattoo bandaged for a few hours and then to wash it with warm water and soap. After that, he suggests using Aquaphor two to three times a day until it is healed.
7. Let go of regrets
Us girls at sofeminine added this last bit of advice for you lovely readers. The truth is, while getting a tattoo is a big decision, it's also meant to be fun and an expression of who you were at the time you got inked. Sure, your 50-year-old self might not love the fact that you got Ryan Gosling's face tattooed on your bum (just kidding, don't do that), but 21-year-old you liked the idea enough to make it permanent. Think of your tattoos as a scrapbook of your life. Regrets are for the birds!
Check out these celebrity tattoos: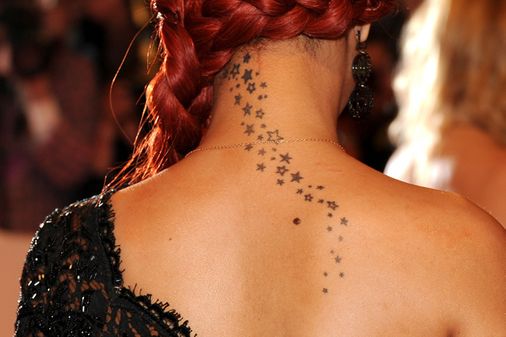 © Getty
Rihanna
Some of us sofeminine girls are already inked. Do you have a tattoo? Tweet us a pic @sofeminineUK! ​