Although the negative space nail art manicure has been around for a couple of years, it was catapulted into mainstream popularity after a slew of designers got their hands on it (pun totally intended btw).

Creatives from Charlotte Ronson to Dion Lee sent their models down the runway with manis that were simple yet surprisingly fresh and edgy. Gone were the over the top "look at me" nails, and in their place lacquered digits with a bit of geometric appeal. In case you missed the memo, we've entered a whole new era of nail art.
The main feature of negative nail art is the fact your natural nail is integrated into the design, from peep show hearts to cut out squares, diagonal line and mind-the-gap tips, the space you leave untouched by nail polish is what really sets this mani trend apart. It's about reading between the lines and making the less is more approach work for you.

The reason we're hooked? It's easy to achieve AND super stylish. This is nail art for the arty. Are you cool enough?
What You Need To Achieve This Look:
- Clear Base Coat
- Top Coat
- Nail Brush
- Nail Tape
The manicure is achieved by applying a clear or natural base coat first, then using a nail brush to apply your desired design on top. Usage of nail tape is optional, but can be helpful in keeping the mani neat and clean. As always, seal the look with a strong top coat.

Feel free to experiment with colours and textures!
Get Some Negative Space Nail Art Inspiration Here: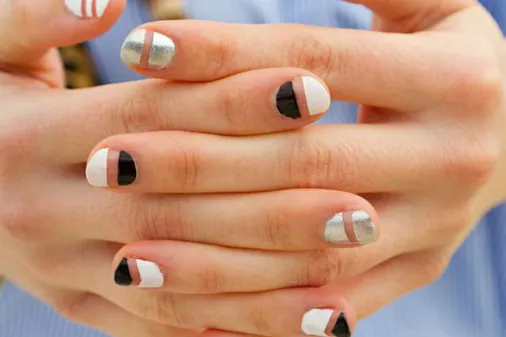 © Pinterest via Sprinkles In Springs
Are you feeling negative space nails? Tweet us your mani @sofeminineUK!

This article was written by Cliché. Follow her @CalamityCliche.