On the sofeminine beauty desk we're lucky enough to be sent various goodies, treats and treatment invites each day, and each one promises miracle results. So when we heard about the Outback Organics new hot wax, Outback Gold, which claims to make waxing (including bikini waxing) a pleasant experience we had to put it to the test at Harrods Urban Retreat.

Essentially they've developed the next generation of waxing with a peelable hot wax that dries quicker than most. It's been developed with advance polymer technology which means it shrink wraps the hair as it dries - taking off even the most stubborn hair.
Because it takes less time to dry and is easier to apply it means waxing appointments can be a speedy affair too - they claim to reduce some waxing appointments by up to 15 minutes! Impressive stuff. We HAD to try it out. ​
It turns out the folks from Outback Organics (from Down Under of course) are so not lying. If anything they're making safe claims - this stuff really works.
The Outback Gold wax is not as hot as some peelable versions which means there's no sharp inhalations ​or OMG moments when the wax is smoothed on - and when it comes to the all important whip and strip the sensation is slightly uncomfortable at the most. Seriously we spent the whole time waiting for that raw 'n' sore moment that usually accompanies an intimate wax.

It makes sense that Outback Organics have nailed a near-perfect hot wax formula - they're the experts in all things wax related and their post treatment products are all about helping you maintain fuzz-free skin that's post-wax happy.

Their post-waxing skincare heroes don't come as part of the treatment but if you want to pick them up then you're able to do so at Urban Retreat.

Their Ingrown Hair Serum which comes in a handy roll on prevents (and heals) any nasty looking bumps and pimples that harbour ingrown hairs. Made with Australian sandalwood, cypress oils, aniseed myrtle and prickly pear extract this helps to heal imperfections without drying the skin. Their Bush Balm (gotta love the name) is super soothing on delicate areas, helping to reduce redness and calm the skin post-wax or shave.
So with these bush beauty secrets on your roster you can feel smooth and bump-free between your pain-free appointments. Bikini line heaven just landed!
Outback Gold wax is launching at Harrods Urban Retreat from October and is not to be missed. Waxing treatments start from £22.00 and it's suitable for underarms, bikini, legs and more.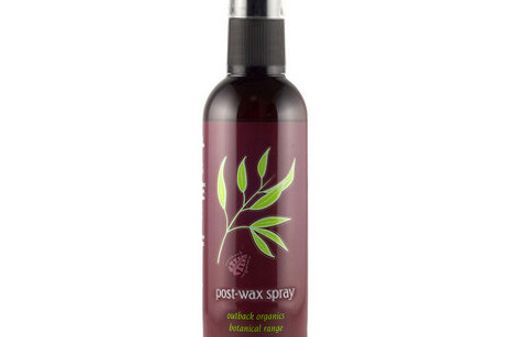 © Outback Organics
Post Wax Spray by Outback Organics
Do you believe in pain free waxing? Tempted to try it? Tweet us @sofeminineuk!