Fresh-faced actress and style icon Emma Watson is the new ambassador for Lancome's Gloss In Love collection, which features the 12 shades of Summer.
From hot eye-popping pinks through to cocktail corals and strawberry sorbet, the range ensures our lips will be looking glossy, glam and pout perfect whatever the weather.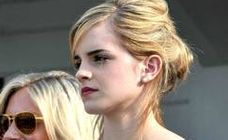 Lancôme President Youcef S.Nabi said about the brand: "Lancôme has created the most mouth-watering made-to-measure 'In Love' make-up imaginable, perfect to play with and to highlight the colourful spontaneity of your personality."

© Lancome
Emma Watson new face of Lancome lip gloss collection
The high-shine lip glosses leave lips dazzling and ultra-soft for up to six hours thanks to their light-trapping formula and in-built moisturiser.
Gloss In Love also features an ultra-iridescent flashy white shade to layer over or under a product for instant shine.

© Lancome
Emma Watson new face of Lancome lip gloss collection
Its precise two-in-one application makes our beauty regime so much easier, defining lips without bleeding outside their natural shape.
The curved side of the applicator adds texture and shine, while the upper lip side works on precision and contouring.
On application the gorgeous glosses exude mouth-watering vanilla and fresh fruit cocktail notes, so not only do they look great, they smell heavenly too. What's not to love?
Gloss In Love RRP: £20. Available nationwide from 1st June 2013.