Former Girls Aloud singer and West End actress Kimberley Walsh has been named as the new face (and body) of the Ready to Glow campaign which launches today.
As the ultimate natural beauty, Kimberley seems like the perfect fit for the beauty campaign aimed at empowering women to look and feel great without invasive treatments.
Kimberley comments: "I am proud to be part of Ready to Glow, like many woman I've had my own body hang-ups in the past but I'm passionate about helping or supporting other women to feel confident in their own skin and celebrating natural beauty."
The Ready To Glow campaign by Scholl, Clearasil, Veet, Optrex and E45 is a pioneering campaign set to promote natural, everyday beauty basics rather than an army of make-up artists. Phew.
Talking about her everyday beauty regime, Kimberley says: "Covering over the cracks with make-up and fake tan doesn't always make us look or feel better – I always feel more confident and beautiful by doing the body basics before I step out." You're not the only one Kimbo.
In a series of never-seen-before pics, the singer smoulders in a stripped-back photo shoot, with barely-there make-up and ombre locks.
Kimberley, who invited cameras behind the scenes to watch her get ready, comments: "When you've got your glow, you feel confident, flawless and ready to take on whatever the day throws at you!"
Marketing Director, Jérôme Lemaire says: "We are thrilled to be working with Kimberley Walsh on Ready to Glow. She is the perfect fit for all five essential beauty brands which enable women to glow from top to toe at home and with no fuss. Kimberley is the ultimate girl-next-door – she is aspirational, yet women can relate to her."
Kimberley Walsh's best-kept beauty secrets
Kimberley lets us in on a few of her must-have beauty buys:
Fresh Faced: "Whether I'm make-up free or prepping for a shoot, I need the confidence that my skin will be blemish free. Clearasil Daily Clear Vitamins & Extracts Wash and Mask is great for everyday use – it smells nice, feels great on my skin and is really pleasant to use."
Bright Eyes: "My eyes can start looking dull and tired when I've been travelling or on tour and need brightening. Make-up isn't enough to make them look and feel great, using a moisturising eye spray such as Optrex Actimist 2in1 forTired and Uncomfortable Eyes ensures my eyes are fresh and revived throughout the day."
Smooth Skin: "I love E45 Nourish and Restore Body Lotion. It absorbs quickly into skin and doesn't feel greasy meaning you don't have to wait ages before you get dressed."
Fuzz Free: "I don't always get time to visit a salon so it's great to be able to wax at home with Veet EasyWax Electrical Roll-On Kit. It's easy to use and provides professional results from the privacy of your own bathroom."
Dancing Feet: "Strictly Come Dancing did more damage to my feet than climbing Mount Kilimanjaro! Now I rely on products like Scholl Express Pedi to help me get my feet back to being touchable soft and smooth."
That's five beauty secret we can all try at home so go on get glowing a la Miss Walsh. What do you think of Kimberley's Ready to Glow campaign? Tweet us @sofeminine and let us know.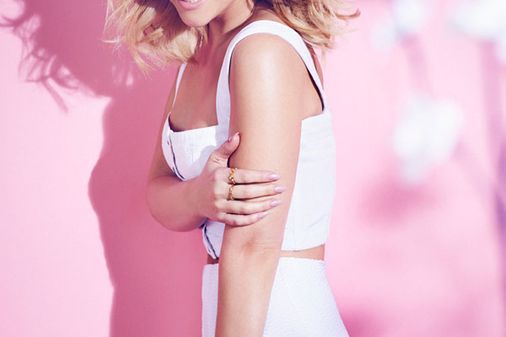 © Ready to Glow Kimberly Walsh
Kimberly Walsh launches Ready to Glow campaign
Check out the exclusive behind-the-scenes footage of Kimberley's photo shoot: