Could you have ever imagined a world where Victoria Beckham and Kanye West got Anna Wintour to play babysitter from frow? Or how about tights being stretched beyond the legs to cover the entire body? Those were only a few of the sightings we came across at the Autumn/Winter 2015 shows. As you can imagine, there was hardly a dull moment.

Check out some more memorable sightings right this way.
Tights? No longer JUST for legs
Well, here's a first. Did you know that pantyhose could be worn as a full ensemble? Kim K knew (or at least her self-proclaimed "genius" hubby Kanye West did). The reality star was the first to sport this look from the Yeezy for Adidas collection.
Stylists at Hood by Air revived an old classic: tights over the face. Oh you know, like robber chic.
Anna Wintour and the frow children
At the Victoria Beckham show it was impossible to miss her entire stylish family sitting front row. But what was even more interesting was spotting Anna Wintour right next to them.
Here goes Anna the babysitter again, trying to seek refuge from tiny North's temper tantrum at the Kanye West show.
Mama Kim adorably playing with daughter North
Seriously, is your womb on fire yet?
Queen Naomi storms at Zac Posen
Naomi Campbell rightfully closed the Zac Posen show in a gown fit for the Queen that she is.
Fifty Shades of Mourning
Thom Browne, one of the most innovative American designers, made his genius known once again. His A/W 2015 collection was rife with totally black looks complete with veils. The models looked like elegant, young widows.
Punk and Kawaii at the same time
Nicopanda, the collection by Nicola Formichetti, seems to fuse punk and Kawaii, the latter being "cuteness in the context of Japanese culture." Here Formichetti delves even deeper into his examination Harajaku style.
It's ALL about the shoes!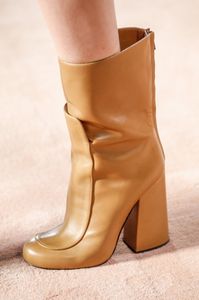 © Pixelformula
If you're looking for a good feel of NYFW look no further than these statement-making shoes!
Different is good!
One of our fave parts of Fashion Week was seeing the utter diversity on the runway. It wasn't all super thin models. Below we saw the likes of Winnie Harlow, a model who has vitiligo, strut her stuff at Desigual. We were also pleased to see "Orange is the New Black" star Laverne Cox make her way down the catwalk, along with models with disabilities who marched for FTL Moda.

Was this all a ploy to draw attention and garner press for their show? Perhaps. But either way, we're thoroughly on board with this season's theme: diversity.
What's been your fave part of NYFW? Tweet us @sofeminineUK!
New York Fashion Week Street Style A/W 2015
You Might Also Like:
8 OMG Moments From Yeezy's Fashion Show
18 Times Anna Wintour Hated Fashion Week