All it took was one little beam of sunshine to shock a girl into spring shopping fever and now I'm realising that I've seriously let my fashion game go. Time to get out of my baggy knitwear rut and into something a little more sunshine and shaved legs appropriate. That's if I can locate my razor...
Here's our spring shopping haul must haves!
1. Open season
Oh. Happy. Days. Peep toes are back in the form of a tres wearable shoe boot because let's face it, we'd be judged if we slipped into premature Birkenstocks. In March. All you need is a pastel pedi to go with them and you're well on your way to being spring ready.
2. Spring back to colour
How do you shake off that all black everything palette you've been wallowing in for months? With a smattering of mellow yellow. Trust me. Find the right shade for your skin tone and it will change everything. I love this sandy lightweight jacket from Zara.
3. Soft skirting
Here's the situation. You wanna get your legs out but you also wanna cover all cold breeze eventualities and avoid being that person that just won't stop sniffing on your morning commute. I've got three little words of advice for you. Soft. Touch. Leather.

Stick to layers elsewhere with a funnel neck top or a turtle neck (if you're not ready to give them up yet), duster coat and knee high boots. You'll be slaying it.
4. New season new 'It' bag
As the seasons change so does the contents of our handbags. Everything gets a little lighter and easier to carry since we can leave our bottles and bottles of triple strength hand cream at home. Bring back the days of the draw string, it might just get us to 'remember' to pack our gym gear. Ahem.
5. Simple stripes
Sadly I'm not quite tanned enough for summer beachwear just yet so I'm bringing the coast to my closet instead. Chic stripes good enough for the Monday to Friday grind? Check. Oh and it's off the shoulder. You know, because it's spring.
6. Jersey girl
Yes, floaty billow in the breeze dresses. That's just what a girl needs in her life. I love the rounded sleeves and colour pop interior on this little buy from COS.
7. Show me the shades
Hello ! People wear sunglasses in winter. So, technically we have muchos catching up to do.
8. A new layer
Nope not your standard jumper over coat kinda layering. I'm talking necklace, Instagram envy, time to show off my décolletage kind of layering. It's way prettier.
9. White is always a good idea
You can take it from me, these high waisted trews are my star buy of the season. They elongate your pins, skim your hips and taper you in at the waist.

I've been teaming them with a white boat neck top and black block heels. Something tells me there's gonna be a fashion blogger riot over these bad boys. Get them while you can!
10. Safari style glamour
Sometimes it's good to stick to what you know and earthy shades is ALL I know. As seen at Chanel, Marc Jacobs and Ralph Lauren, designers went loco for out of Africa apparel for SS15. From khaki skirts through to top to toe beige and wide brimmed hats, it's high time you found your wild side.

I'll be easing myself in with this belted woven shirt dress.
Don't miss more of this season's hottest buys!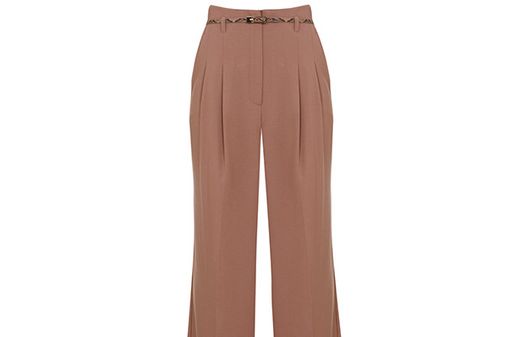 © Miss Selfridge
Spring Shopping Haul: The Must Have Items For Your List
This article was written by @lareesecraig follow her on Instagram!
You might also like:
30 #GirlProblems Men Will Never Understand
23 Things That Go Down When Shopping In Zara