1. Case in point, these lit nails!
No outfit is complete without a magnificent mani, and this intricate nail art is pretty magnificent. Plus, they're a pretty good excuse for getting out of putting up that sh*tty ass tent. Lol.
2. When she went all kinds of sexy mermaid...
and dyed her tresses for days HOT pink. This is ombre done oh-so-right.
3. When she brought back the noughties coin waist belt (remember those?!)
and made it look nothing like before.
4. When she made the kaftan a field-side thang
Vanessa nailed this look. Loving those mirrored shades too!
5. When she outdid our poor attempt at experimenting with hair chalk
And looked ah-mazing, naturally.
6. Then there was the time she donned the pretty embellished bindi
Vanessa gets extra style points for matching her pink lippy to her hair AND rocking loose braids before they became a thing. Appaz she's pretty psychic as well as down right beautiful. Gee that woman's got it all.
7. When she went where many festival goers have been before, only we failed
Nothing says Coachella more than a floral crown, and heck, why not go full on matchy-matchy with turquoise tresses too? Always one step ahead that VH.
8. When she showed us she's got the most fashionable gal pals ever
What a good looking squad - Vanessa's gal pals are just as 'chella chic as she is. And you know what they say, friends that pose upside down together stay together...
9. And now for the time she told the story of Coachella...
Through a series of yoga poses, as you do. Namaste Nessy, namaste.
10. When she introduced us to another one of her many talents: Jewellery layering
It's all in the detail - crochet, coloured hair and she even matched her mani to her accessories.
11. When she did the whole shebang and it still wasn't too much
With her tousled long locks, jewelled head piece and striking printed dress, VH proves exactly why she's our Coachella queen.
12. The time she made us want to learn how to crochet
This look ticks all the festival fashion boxes in one: feathers, coin accessories and crochet. No wonder she looks so smug!
13. When she showed us that no festival is complete without glitter tats and floppy hats
AKA the perfect components to watch the sun set over another day in 'chella paradise, don'tcha know!
14. And the time she made suede and shade a thing
A suede jacket is the perfect cover up for chilly nights at 'chella, and it's just common knowledge that no festival wardrobe is complete without denim shorts. Glow sticks optional obvs.
15. When her nails upstaged every outfit we've ever owned
Her embellished 2016 set will go down in history as the mani of our dreams. FACT.
16. When she went matchy matchy with her sissy and gave us sibling goals
We're feeling those seventies vibes ladies. *runs to Hobbycraft to purchase peacock feathers in bulk.*
17. When she made crochet and dungarees a thing
How come we never look this good in our dunga's, aye?
18. Or how about that time she donned cliche festival chic but still made it work?
Anyone else would look out of place in a kaftan and flowers in their hair, but not our girl Nessy.
19. Or when she partied with Emily Ratajkowski and it was everything
Two of our biggest girl crushes together in one photo. *sigh*
​Vanessa we salute you. Fancy bringing us along this year?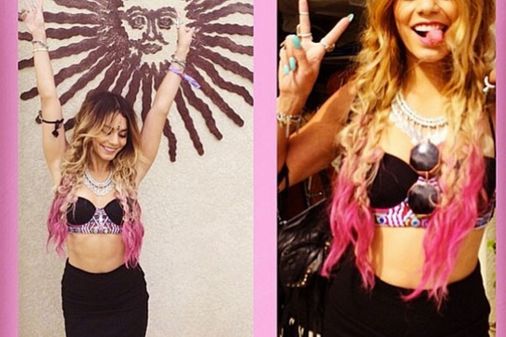 © Instagram
Who's your Coachella style hero? Let us know @SoFeminineUK
You might also like:
The 18 Curvy Women On Instagram Who Prove Big Is Beautiful
The Best Outfit Ideas For Your Festival Style