Back in 1999 a young David Beckham married Victoria Adams in a fairytale, royal-inspired ceremony in Ireland. Fancy pants hey!
A floppy haired David was suited and booted Westlife-style in a white satin suit while Victoria styled up her £60,000 Vera Wang wedding dress with an equally lavish tiara.
That very tiara, yep the 18-carat latticed Slim Barrett design, is up for auction at a guide price of between £18,000 and £25,000. That's a lot of big Beckham bucks.
Experts say the statement tiara could fetch more than the estimated price when it goes under the hammer on December 5th.
Victoria borrowed the crown, entitled East of Paris, for her nuptials but it has since been on show at the Victoria and Albert Museum as part of the 100 Tiaras, Past and Present exhibition.
The made-to-order crown jewels are sure get the gavel going and Barrett is hopeful they'll go to a good home. He told The Telegraph: "We've had over 10 years of brilliant time with that tiara and we're on the next step of our journey."
He added: "It's a modern icon. We've had loads of people asking us to do things with it before but it's never been right, so we've always held onto it."
How far would you go to get your hands on VB's jewels? Tweet us @sofeminineuk
Check out more pics of Mrs VB past and present in the gallery below: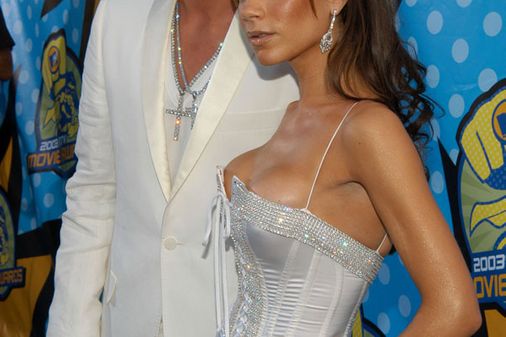 © Getty
Victoria Beckham's wedding crown goes on sale