If you're in two minds about what to do next with your hair then maybe a first class blow dry is the answer. There's no need to play dare devil with your cut or colour when there's an equally glamorous option that delivers the same OMG results. We know, it was news to us too!
Guild London brings a whole new dimension to the hairdressing experience. Having launched in Paris in 2011, this innovative salon fuses effortless Parisian chic with the British cool of King's Road, making it the go-to destination for the modern Londoner.
From putting the wow factor back in your waves to getting to work on your split ends there's nothing the designers can't deal with. That's right, they're called designers!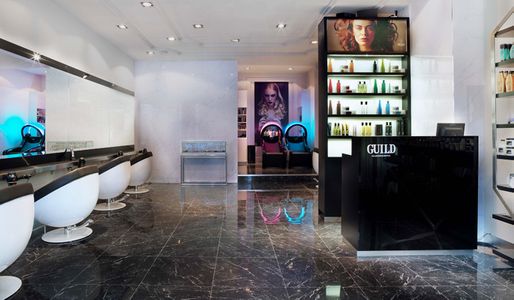 © Guild London
Founded by multi-award winning hairdresser Philipe Gentner, Guild London combines artistry with technical knowledge to produce trends that look just as good on your tresses as they do in Vogue. Fashion for your hair? Now that's something we can get on board with.
After a deep hair cleanse under a très cool mood-reflecting light (it's the little things in life) and a session in the massage chair you'll have your very own tailored treatment. We went for the Shu Uemura's Ceremonies treatment fur unruly curls.
If you need to have a few inches off now's the time to do it - they'll even use a 50/50 technique, cutting the hair once when wet and again when it's dry to check you're happy with the result. It's a brilliant trick to make sure the customer is completely satisfied with the length without the stress of cutting off too much. Phew.
What's more, the creative team will recommend a certain trimming technique to flatter your face shape so you can put your bowl-cut fears to one side.
And here's the best bit... the Parisian-Chelsea blow dry is done and dusted within the hour making it the ideal treat to self. Even if you do squeeze it into your lunch break.
For those that are looking for the head to toe Chelsea makeover, Guild have got that covered too. From spring ready Shellac pedis to botox-in-a-tube facials and party makeup, there's a treatment for every occasion.
Prices start from £30 for a blow dry to £130 for a designer package.
Got any questions about our experience at Guild London? Tweet us @sofeminineUK