The pixie cut is becoming an irresistible trend in celebland - only 3 days ago we saw Jennifer Hudson reveal her new fierce pixie cut at the Black Girls Rock Event, Pamela Anderson has followed in her footsteps.
Ditching her Baywatch locks Pamela Anderson has also jumped on pixie bangwagon joining other celebs who have also made the chop including Beyonce, Miley and Rihanna.
The blonde beaut' stepped out on Wednesday October 30th with a new super chic pixe-cut. She was accompanied by her ex-husband Rick Salomon who has been spotted with her in recent months.
Adding to her new killer 'do look, her outfit was equally stylish wearing a striped A-line frock, ivory cardigan and black ballet flats.
Twitter fans went wild on Wednesday when the star posted a photo of the new chop. The star posted the photo to fans tweeting: "Just do it".
Her marriage with the producer ended in 2008 when he filed for divorce after just one year. Though separated, the couple have been seen together on more than one occasion in recent months speculating suspicions that love is in the air for the divorced couple.
Earlier this month when Ellen Degeneres asked her where the pair stood she teased: "I say we're best friends...with benefits.
​"I don't want to meet anyone else...I'm very happy. We're happy. He's a great guy."
With a string of divorces on her belt the bombshell is no stranger to divorce papers. Her ex-husbands include Tommy Lee and Kid Rock.
In keeping up with her fabulous new look Pam has also been training hard, revving up for this week's New York Marathon on Sunday, November, 3.
The Baywatch star said:"I started running, and I hated it. Of course, everyone hates running for the first mile," she told DeGeneres, "If you're running two miles or 20 miles, it always hurts. Now I love it. I look forward to it. It's really good."
We're obsessed with this new look. Keep up the good work Pam!
What do you think of the Pam's new super short 'do? Tweet us @sofeminineUK
Check out these other cute pixie cuts!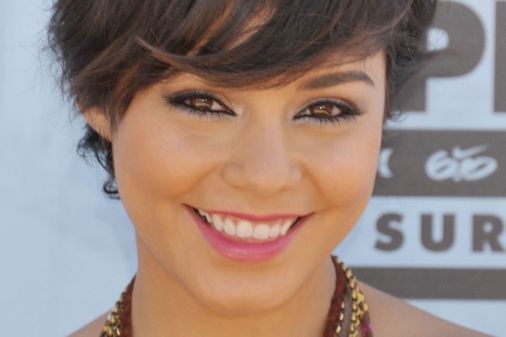 © Getty Images
Vanessa Hudgens