Many of us think cosmetic testing on animals is a thing of the past, yet millions of animals worldwide still suffer in the name of beauty.
A year on from the EU sales ban on cosmetics newly tested on animals, the RSPCA is calling for cosmetic companies to 'Makeover the World' and end the practice globally.
Eloise Shavelar, RSPCA Campaign Manager says: "The RSPCA's 'Makeover the World' campaign aims to showcase the UK's ambition to end this practice once and for all and to achieve a day when no new cosmetics products or ingredients are tested on any animal, anywhere in the world."
The Makeover the World campaign is asking animal and beauty lovers to join forces to email the world's largest cosmetics companies, urging them to prevent marketing further products in countries where animal testing is required.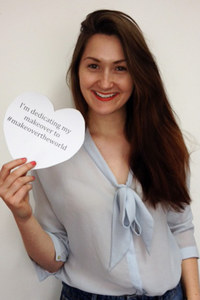 © Sofeminine.co.uk
You can even get involved by dedicating a makeover to the animals. What better excuse to doll yourself up and take a selfie? Feel free to make your own sign with the campaign message. We opted for a DIY heart. Cute hey?
Supporters are encouraged to give themselves a fun makeover using the hashtag #makeovertheworld and share their snaps with friends and family.
Made In Chelsea's Cheska Hull and X Factor winner Leona Lewis have already dedicated a makeover to the campaign so we thought it was only right to get on board with the selfies too. Naturally.
Whether you go all out with a bunny tail and ears or opt for a simple red lip and a smile make sure you show your support for this great cause.
And for those of you that are confused by labels and impressive claims about ethical policies, here's a list of all the companies you can be sure don't test on animals. Guys, we love you.
Together we can make sure we can shop for animal friendly beauty with a clear conscience!
Fancy joining in the fun? Tweet us your selfies @sofeminineUK