Ever wished you could try beauty products before you commit to buying? There's nothing more disappointing than investing in a beauty product that ends up gathering dust. But there is a solution to this: beauty box subscriptions.

These little boxes of expertly curated beauty finds, contain four to six deluxe beauty products tailored for you and delivered to you every month.Your nifty beauty box will be delivered right to your doorstep making it easier than ever to try before you buy.

So if you're determined to go on a beauty discovery this year you can't go wrong with a beauty box subscription. You'll learn about new brands, secret potions, must-have cult classics and increase your beauty expertise tenfold. All you have to do is subscribe.

But where do you start? We hunted the world of beauty to bring you the ultimate beauty box subscriptions. Happy pampering ladies!
1. Birchbox
Birchbox is a long-standing fave for many beauty box users. The company launched in the UK only one year ago following it's wide success in the states. Products are chosen based on your personal beauty profile and lifestyle choices, so you'll never be disappointed. And who would be when gorgeous handpicked goods are delivered right to your doorstep?

Brands such as Nars, Benefit and Origins are gifted in good-sized samples. What's more tempting is you can purchase your favourite full-sized products directly from their website and earn reward points for your purchases.

The box also comes with a Birchbox magazine complete with interviews and tips to make the most your new beauty miniatures. Sounds like a dream!
RRP: £10.00/month + £2.95 P&P at Birchbox
2. Glossybox
If you're an on-trend beauty girl then Glossy Box is your one-stop shop. Not only are the deluxe products perfectly package, but you're also in for a bit of a treat too.

Glossybox travel the globe near and far to scout the very best of beauty, making sure you're getting the latest and most innovative products on the market.

All you have to do is fill in your beauty details and you'll get a tailored-made box just for you.

So if you're a sucker for high-end buys and like trying leading-edge products then this box wins every time.
RRP: £10.00/month + P&P at Glossybox
3. Latest in Beauty
This box is perfect for beauty buffs that want more control over their beauty arsenal.

After you fill out the Latest in beauty (LiB) questionnaire you can handpick the goods from their fabulous collections and luxury samples; with this amount of beauty power it's hard to be disappointed!

They also launch themed boxes every two months. If you don't fancy waiting for the next box to launch then make sure you sign up for their luxury sample treats which are posted directly to you every month for only £1.50.
RRP: Varied prices at Latest in Beauty
4. Love Me Beauty
If surprises aren't your thing then this personalised beauty box tailored by you, for you, is your best bet.

Even though the options are provided you'll still get that personal touch when you choose four to five products from their beauty menus every month (all new products of course). They really know how to treat their loyal customers too. For every three months you're subscribed you'll get one more product added to your batch. And if you're really determined to make the most of your box, earn free samples by completing quick and easy surveys.

Feeling a bit more daring one day? Do not worry, you'll also have the choice to opt for their mystery box. The fun literally never ends.

You can't really go wrong when you're calling the shots...

RRP: £10.00/ Plus P&P at Love Me Beauty
5. You Beauty Discovery
YOU Beauty Discovery Box is the most affordable box of the lot making it one of our fave beauty boxes to date.

We love this box for it's simplicity and straight-forward service. Just pay the monthly subscription of £6.95 and pick two of your favourite products from their monthly shortlist.

Brands like Melvita, Murad, Sanctuary Spa and Essie are only a few clicks away!

All that's left to do now is sit back and wait for the postman to arrive clutching a parcel. Oh and there's some extra treats added in there too. A girl loves to be surprised.
RRP: £6.95/month including P&P at You Beauty Discovery
6. LoveLula Box
There's no denying natural and organic products are on the rise, but with hefty price-tags and an array of new natural products on the market, finding the potion doesn't come easy.

That's where LoveLula (formally Amarya) comes in. With this green beauty service you'll get five healthy beauty products before they hit the shelves so you can try them out before you commit. One of the perks of subscribing hey!

The box includes popular brands such as, Ren, Cowshed, Dr. Hauschka and Madara.

With a promise to deliver natural, eco-sensitive and non-toxic beauty buys there's not much you can't love about this. Heart.
RRP: £12.50/month including P&P at Love Lula
7. My Little Box
Say hello to Paris's best kept secret. If you love an element of surprise, you've gotta sign on the dotted line for this one. My Little Box delivers must-try beauty products, including one from their in-house beauty range - we like the homemade touch.

You'll also get your hands on fashion and lifestyle accessories, illustrated goodies and you've guessed it, more petit surprises.

From Paris with love!
RRP: £11.00/month + 3.95 P&P at My Little Box
8. Look Fantastic
With brands like Nuxe and Christophe Robin it's no wonder beauty junkies everywhere are fixing themselves up with a little box of Look Fantastic treats. They're good for the soul ok?

A hand-picked, six-piece selection of must-have skin, hair and cosmetic products will make it's way to your door every month.

They've also been known to add special extras into random boxes when they feel like it. This month they've managed to sneak a pair of GHD Platinums into 30 boxes... Now there's a good reason to kiss the postman.
RRP: £15 at Look Fantastic
9. Nailbox
Nailbox is the only subscription box in the UK featuring bang on trend colours, treatments and tools. From office parties to holiday manicures, this carefully-curated selection of iconic hues will ensure your nailing it whatever the occasion.

With brands like Essie, OPI and China Glaze on board, it's a little bit impossible to say no.
RRP: £15 at Nailbox
10. So Susan Lacquer Love
Unlike Nailbox this beauty subscription only contains own-brand nail lacquers, all of which are cruelty-free. Each box contains four full sized Susan nail polishes themed around that month, so you'll have a healthy serving of season appropriate colours at your service. Plus you also earn yourself a makeup giveaway too!

RRP: £14.95 at So Susan
11. Friction Free Shaving
Hair removal is one of the biggest banes of any female's life, amiright? With so many different techniques to choose from, from waxing to threading, the market can be a bit of a minefield - and painful at that. But one (pain free) method we can always rely on to get rid of unwanted hair in a flash, is shaving. But having to constantly replace our trusty razor can get expensive, not to mention annoying.
​
Enter: Friction Free Shaving, the world's first women's razor membership service that delivers razors through the post on a monthly basis, providing a cost-effective and convenient alternative. You receive a high quality (rose gold!) metal handle, plus four fresh cartridges every month – which is enough for a new one each week. Goodbye hairy pits!
RRP: From £5/per month at Friction Free Shaving.
Take your pick of our 11 favourite beauty subscription boxes!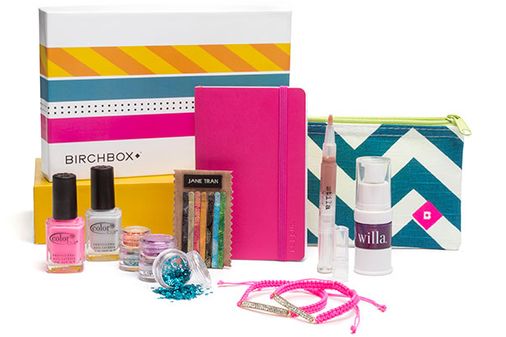 Like this? Follow us on Twitter for more beauty news @sofeminineUK!
You might also like:
The New Summer Beauty Hack You Need To Know About
Women Are Standing Up To Makeup Shaming And It's Brilliant