With celebs from Brentwood to Hollywood going for brighter whiter smiles, teeth whitening treatments are more popular than ever. There's no getting away from it - yellow nashers just aren't sexy.
While the OTT veneers look is not something we were lusting over we were certainly interested in shifting those stubborn tea and coffee stains. Ok, and all evidence of red wine.
SENSU uses the latest light-activated technology to produce an A-list worthy smile with minimal sensitivity and after care. The Zoom whitening system takes just one hour to lighten teeth by up to eight shades, creating a Cheryl Cole worthy smile in as little as one appointment. That means you can makeover your smile in your lunch break, between meetings or before your best friend's wedding.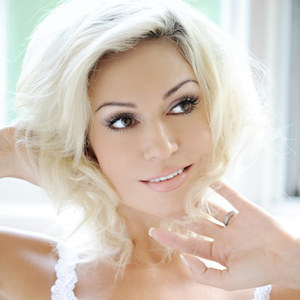 © Sensu
Depending on your course of treatment you may need to prep teeth with the at home Zoom kit two weeks ahead of your laser treatment in order to remove the layer of film on the surface of the teeth.
​Again this is completely painless and easy to use. Your dentist will provide you with a specially designed mould in the shape of your teeth. This needs to be worn for a minimum of four hours per day/night for a course of 12 days.

Each time, you need to fill the mould with some whitening solution using the specially provided home-whitening syringe. Then, all you need to do is sit back, relax, and let it work its magic. Each morning you can race to the mirror to check out your progress.
The results are instant. From the first night we could see the enamel had lighted up to two shades and we were well on our way to achieving a whiter smile.
Next you'll have your in-surgery appointment for the laser treatment. The SENSU team make sure you're totally relaxed before starting the procedure. We sat back and watched videos of Beyonce. Naturally.
The treatment is done in three stages. After the dentist has applied the light-activated gel on your teeth you'll spend 15 minute bursts under the LED Zoom lamp. After each stage the denist will stop, add a a fresh tube of gel to the teeth and apply the LED lamp again to get the optimum result.
The treatment continues to take effect for up to 48 hours following the procedure. To get the best results try to avoid eating and drinking anything that would stain a white shirt. Red wine, bolognese... it's all strictly off the menu.
Patients then follow up the laser treatment with another at home kit. This time it's the day white kit which can be completed in just 30 minutes, twice a day for three days.
And if you're eating and drinking habits starts to take their toll on your teeth again or you have a special occasion coming up, you can top up your primary treatment using the at-home kit for longer lasting results. These are widely available both online and through your dentist.
Zoom whitening treatments range from £199.00-£800.00 but most patients should expect to pay between £400.00-£500.00.
There's no doubt you'll be flashing the receptionist a whiter smile when you check out!
Are you thinking about kick starting your smile makeover? Tweet us @sofeminineUK