She's known for her eccentric style and socialite ways, but the thing that's Hot Right Now about Rita Ora is her ever-changing hair.
Earlier in the week, formerly blonde Rita donned a quirky blue smurfette hair do on her way to a rehearsal.

But before we could digest her latest hair-volution, she traded her Marge Simpson locks in for sunshine yellow streaks.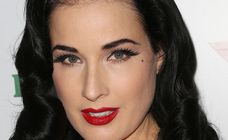 The Facemelt singer and colour-change chameleon is the only starlet we know who can go from blonde to blue to buttercup yellow in under seven days.
With Lady Gaga off the radar, someone had to fill the gap and Brit beauty Rita is certainly fulfilling her role as the reigning rainbow queen.
Her bleach blonde locks seemed to have grown a few inches overnight too, so rumour has it this is a temporary new 'do.
The bright yellow streaks give Rita an easy update and a healthier alternative to putting her hair through another coat of peroxide tints.
She's got tough competition from other celeb colour catchers like Little Mix, Rihanna and Katy Perry, but with her track record we think they'll have a job to catch up with her.
Rita's got quite an Ora about her thanks to her new 'do - but what do you make of her playful lemon locks?

© Getty
Rita Ora