1. 3.1 Phillip Lim's Pashli
3.1 Phillip Lim's Pashli has been a hit among many stylish gals in recent years due to its functional construction. The vertical zippers on opposing sides of the purse can be adjusted to allow for more space (aka great for the working woman on the go). It can also be worn as a tote or a cross-body.

Gotta have one? Head on over to 3.1 Phillip Lim and have your pick of the litter.
2. The Chanel 2.55
This bag needs no introduction. The 2.55 is a purse most fashion lovers (self included) have on their wish list. You can expect to see a price tag of £650 and up at second hand stores. Yup, the thirst is real.
3. Givenchy's Antigona
Much like the Pashli, the Givenchy Antigona can be carried two ways: cross-body or tote. The structured silhouette and goat leather makes this one a must-have.

I mean, how awesome would this be thrown over the shoulder during your morning commute?
4. The Louis Vuitton x Murakami Sologne Bag
The Louis Vuitton x Murakami collaboration was insanely popular from the moment of its inception. Marc Jacobs, creative director of LV at the time, commissioned the Japanese artist to design a collection of handbags; an attempt to infuse a modern intrigue to the brand.

I'm pretty sure you've seen tons of knockoffs of this purse over the years. That alone speaks for its iconic nature.
5. Kate Spade's Pride and Prejudice Book Clutch
This is the clutch for the girl who loves fashion AND literature. Kate Spade's book clutch collection instantly became a hit for street style stars and beyond.
6. Proenza Schouler's Satchel

The Proenza Schouler satchel comes complete with a ton of compartments; all great for keeping your items organised. That alone has made this purse a major hit.

Also, a woman can never have enough oversized bags, can she? That's a very rhetorical question BTW.
7. Alexander McQueen's Heroine
The Heroine has been a fave among many celebs over the last year and a half as it's the perfect balance of functional, feminine, and style.
8. Stella McCartney's Falabella
Stella McCartney's Falabella is widely known for its signature chain trim, which gives the bag the right dose of edge appeal.
9. Céline's Phantom Luggage Tote
Ahh, yes. The Céline Phantom. This is perhaps the holy grail of totes. It's large enough to hold all your essentials and doesn't skimp on design.

I may or may not have considered starving for a few months in an attempt to get my hand on this coveted bag. But alas, my Chipotle addiction won time and time again. So no dice on the Phantom.
10. Charlotte Olympia's Perspex Clutch
When it's time to hit the town a huge tote won't do. Instead, opt for cool clutches. While we love the Charlotte Olympia perspex clutch for its clear nature, the black pouch hides a multitude of lipstick sins. And as we all know, black is timeless.
11. Valentino's Rockstud Tote
Valentino hit must-have gold when they came out with a selection of accessories that featured studs. From pumps to clutches and totes it seems every fashion girl in the know just needed one of the designer's embellished items.
12. The Mulberry Bayswater
The Mulberry Bayswater has one of the most classic designs on this list of iconic bags. It's also a purse that's great for the office.
13. Longchamp's Nylon Le Pliage
Longchamp's nylon Le Pliage bag is loved for its simple and functional design. It's reported to be inspired the Japanese art of origami; made from material that's very bendable.

My goodness, I remember how badly I wanted one of these bags in high school...
14. Givenchy's Nightingale
Givenchy's Nightingale scores major points for its size, two way zip top, and delicious leather lining. It's all about craftsmanship.
15. The Hermès Kelly
This is a purse well suited for the most feminine of ladies. What makes the Hermès Kelly (and Birkin) so desired is the brand's absolute dedication to excellence in design. Each purse is hand cut and stitched; thus warranting its hefty price tag.

I'll continue to dream of this beauty.
16. Gucci's Monogram Canvas Bag
There are few other logos more instantly recognisable than the Gucci monogram. In fact, they feel so passionately about their signature that they took Guess to court for copyright infringement. If that doesn't tell you how hot this purse is, then I don't know what else to tell ya!
17. Chloé's Paraty
Here goes another stunning purse built with functionality in mind. The Chloé Paraty is a fave among women due to its versatility and classic design.
18. YSL's Muse
The YSL Muse has been around since 2006 and is one of the brand's first "it" bags. The satchel unfortunately is no longer on the market, but can certainly be found at consignment stores and on eBay.
19. Coach's Willis
The Coach Willis bag is widely revered for its classic construction and perfect size. It's neither too big or too small.
20. Hermès Birkin
Seriously, who isn't familiar with the Hermès Birkin? With a price tag upwards of £3,280, it's a bag that instantly screams status.

Feel free to purchase if you're skipping this month's (and next month's) mortgage.
21. Louis Vuitton Speedy
The Louis Vuitton Speedy is iconic as they come. This purse hails from arguably the best luxury brand out there. What makes this a special piece is how durable it is. You'll get tons of bang for your buck.
22. Balenciaga Lariat
Some history: Nicolas Ghesquiere, creative director of Balenciaga at the time, once dished that the bag was almost not made. Kate Moss thought it was something he found at a flea market. HA!

Little did everyone know, it would go on to become one of the brand's most famous bags.
23. Fendi Baguette
The Fendi Baguette is THE bread and butter of Fendi bags. It's popularity has never fizzled; still being produced today.
24. Mansur Gavriel Bucket Bag
A couple of years ago when the Mansur Gavriel bucket bag hit the market, it sold out instantly. The black is obviously the most popular, and continues to sell out.
25. Christian Dior's Lady Dior
This little cutie's legendary status began all the way back in 1995. France's First Lady was kind enough to gift Princess Diana the hot purse from Dior, after which Diana ordered it in every possible style. The rest is history.
26. Chanel's Boy Bag
The Chanel Boy Bag will undoubtedly stand the test of time with its classic craftsmanship. The chain strap detail gives the purse some punch and is a fave among celebs, and fashion bloggers alike.
27. Alexander McQueen Skull Clutch
It's hard to ever deny the genius of Alexander McQueen. The skull is the brand's signature motif, and here it sees an iteration in one of the brand's most famous purses.
28. Chloé Marcie
Chloé is always good for bags that every woman can find use in. The Marcie is just another example of a well designed bag that manages to display unique features while maintaining its classic appeal.
29. YSL Monogram Shoulder Bag
The YSL monogram shoulder bag is a great alternative to a clutch on a night out. It's big enough to hold a pair of flats, your makeup, and phone without being too clunky.

Also, how cool is the detail?
30. Bottega Venetta Woven Hobo
If you've stumbled upon a woven purse odds are it was inspired by Bottega Venetta. The hobo style in particular is popular because it's the perfect accessory to accompany you on a day of errands.
Long live huge purses!
Even More Iconic Designer Bags: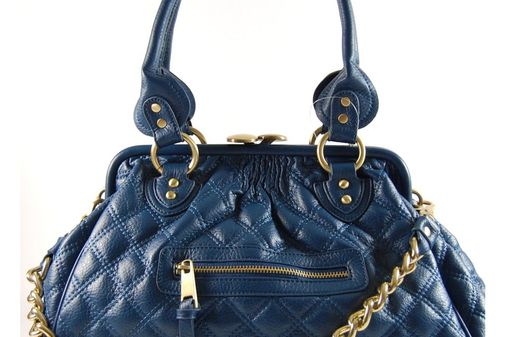 © secrethandbag
What are some of your fave designer handbags? Tweet us @sofeminineUK
You Might Also Like:
15 Of The Best Things That Happened At LFW A/W15
30 Struggles Only Fashionistas Will Understand