1. All the good stuff is full price
Ew.
2. They endlessly tempt you with "Buy NOW! Sale Ends TODAY"
But then there's another sale the following week. Jerks. Desperate jerks.
3. The entire store looks like a war zone
Instant headache. Good luck making it out of there alive!
4. You can't find your size in anything
Because they're emptying their stock, it's practically impossible to find your size in anything. You have to decide if you'd like to gain 100 lbs or starve... Decisions, decisions.
5. You're bombarded with spring florals in February
Which is great, you know? Of course you want to look like an 8-year-old in 4 degree weather.
6. That really cozy sweater you wanted is gone... long gone
You patiently waited for it to go on sale. You even hid your size in a remote corner of the store. But alas, some other savvy shopper beat you to it.
7. Your emotions are constantly in flux
Should you shop for winter? Should you shop for spring? What's life even? Someone help!
8. All the clothes are painfully bright in the summer
But then depressingly drab in the winter. Where's the middle ground? We'd like to live there.
9. As you're picking up that mini you realize....
It's time to start shaving again. Looking like a Yeti works fine in the winter, but is so not chic in July...
10. In the middle of winter there are bikins everywhere
Which is obviously the worst.
11. In the summer it's impossible to find that killer LBD
And a girl has GOT to have her LBD, okay?!
12. You're broke so can't buy anything anyway
Which makes those sale announcements all the more tortuous. How dare they be so cruel!?
13. There are a lot of "just because" purchases
Also known as the most disgusting items of clothing known to man you decided to buy anyway. Why? Because it was buy one get one free. That's why!
14. You have no idea what the trends are
So you get ballsy and make a random statement purchase. Fingers crossed you don't look like an idiot.
15. You really want that coat from Zara
But know it's no where near cold enough to wear it.
Do you hate between season shopping as much as we do? Tweet us and let us hear it @SofeminineUK
Just in case you needed some extra motivation to stay cute and fashionable this season, we compiled a list of style quotes every fashionista should live by.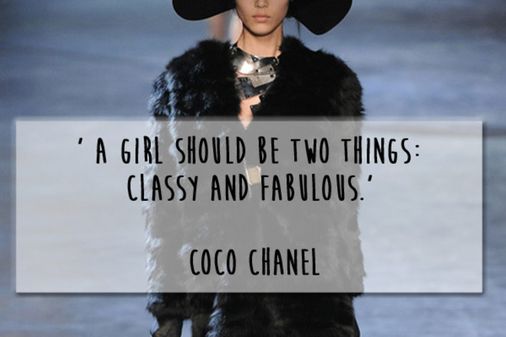 50 Of The Best Quotes On Style
You Might Also Like:
Fashion Toddlers! 25 Photos Of Kids With Style
What To Wear If You're Skinny : Style Advice For Skinny Girls​