It's fair to say that Kate is a style icon in her own right. So it's only right that she inspires her little girl's wardrobe.
If it's a girl...
All that Glitters
This is how you do evening wear, Kate looks stunning in this Jenny Peckham dress and mum can't be the only one dressed in gold, so it's only right we find a baby version.
This pretty party frock is available at Children Salon
Animal Print
Kate Middleton, showed her wild side in this dalmatian mac coat dress. from Hobbs, and it's only right for the princess to follow suit.
This girls animal print skater dress is available in Debenhams.
Polka Dot
Remember when Kate wore this sweet Topshop polka-dot number and the world went nuts, well just image the hysteria if the royal baby wore a matching dress. Cuteness overload.
You can get your little princess this dress here.
Pretty In Pink
This baby pink Alexander McQueen coat dress is one of our favourite looks from Kate, the colour works great on her, and of course would be perfect for the baby too.
This elegant coat is available from John Lewis.
Casual Chic
Kate does casual so well. These J Brand jeans paired with stripped top and blazer is the perfect preppy look that can work for her and baby.
Fancy styling your little girl like Kate? Get these pieces here, H&M Straight Jeans, H&M Long-sleeved T-shirt and the Scotch R'Belle Girls Navy Blazer.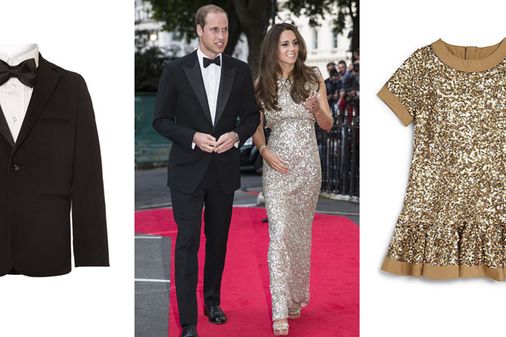 10 Adorable Matching Mummy and Daddy Outfits for the Royal Baby
And if it's a boy...
Ok so he is no style guru, but Prince William knows how to pull off a suit, and that's one thing he can pass on to the newborn.
Suited and Booted
Prince William knows how to rock a tuxedo, and it's never too early for the little prince to start looking smart, he might be the future King after all.
Get this adorable five piece black tuxedo here.
Casual Cool
Oh hello Prince! William proves he can do cool with this outfit, and the new prince must follow his lead.
Here are the outfit details for this look. Mango Boys Regular-Fit Cotton Chinos, Ralph Lauren Navy fleece blazer, Timberland Boys Brown Leather Boat Shoes, Boy's White Textured Spot Long Sleeved Shirt
Wardrobe Staple
Everyone needs a good coat, and here's one fit for a future royal.
Get this traditional pea coat here.
Checked Shirt
A checked shirt for dad and baby, we are getting excited just thinking about the cuteness.
Get this shirt from House Of Fraser.
Suited Up
Because a Prince can never have too many suits, here's another one.
And if you want your little boy in this outfit, here are the details. BHS Boys JRM Blue Check Suit Jacket, BHS Boys JRM Blue Check Suit Trousers, John Lewis Heirloom Collection Plain Textured Herringbone Shirt, Polarn O.Pyret Kids Spotty Tie, Geox Federico Laced Shoes.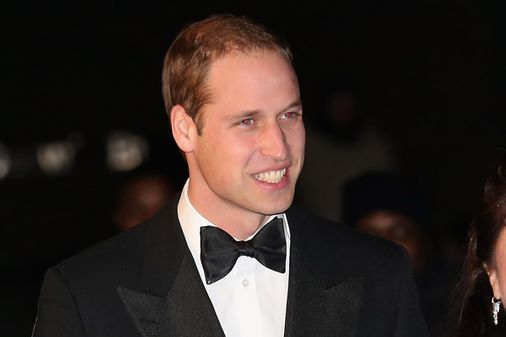 © Getty
10 Adorable Matching Mummy and Daddy Outfits for the Royal Baby
What do you think of matching baby and parent outfits? Tweet us @sofeminineUK
This article was written by Tolani Shoneye. Tweet her @tolly_t
You Might Also Like...

9 Royal Baby Names That Would Change Everything

Fashion Toddlers! 25 Photos Of Kids With Style

10 Reasons Why We Really Want Kate Middleton To Have A Girl