Each season we eagerly await the news of the latest genius H&M x designer collaboration. Well ladies and gents, the good, amazing news is that that blessed day is finally here. Now that's what we call a remedy for the hump day blues!
The hight street fave have announced on their Twitter and Instagram accounts that they'll be teaming up with Kenzo for their latest design collaboration and it'll be launching November 3rd.

Yup, Kenzo are the 'vibrant and playful' brains behind those heavily coveted bright tiger branded jumpers we've all lusted over. Famous fans of the brand include Jourdan Dunn and Rihanna - and if it's good enough for Riri...
We can't wait to see what the line has to offer and you can bet your bottom dollar we will be at the front of the 3am queue when it drops. We're expecting a totally tropical colour scheme, the famous tiger motif and animal inspo a-plenty, just as the teaser suggests. We're also praying for an affordable high street price point which, luckily for our wallets, we have come to expect from H&M's hugely anticipated previous offerings. Eek!
If it's anywhere near as successful as their last collab with Balmain, (and Isabel Marant and Versace before) then it's gonna be one hell of a scrum tackle to the front door of the Oxford Street store come November. We're sharpening our elbows and ordering our tents in prep already...
Are you excited for the Kenzo x HM launch? Let us know @SofeminineUK
Check out the Balmain X HM collection here!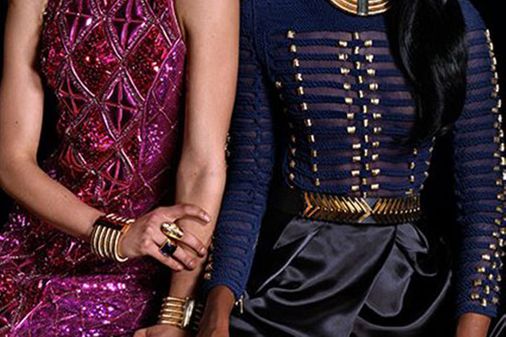 Balmain H&M collaboration
You might also like:
10 Style Staples Every Woman Should Have In Their Wardrobe
The Latest Must-Have Summer Accessory Is A Giant Inflatable Swan And You're Gonna Want One
'The Only Time A Woman Has A True Orgasm Is When She's Shopping' 20 LOL Funny Fashion Quotes