1. @thestyleletters
A mummy-to-be, this blogger is absolutely stunning in her leopard print dress. I also want to applaud her for posing for this image when it's clearly freezing outside, she's quite the trooper.

Check out her style.
2. @cute_m_
Um, I can't be the only one who thinks this gorgeous mama doesn't even look pregnant right? Her bump is barely recognizable! This Instagram user has fantastic fashion sense, and I appreciate anyone who knows how to rock a mustard yellow winter coat.

Check out her style.
3. @ohjoy
As an Asian myself, I'm so inspired by Joy Cho's style and can only hope that I can still look like that when I'm a mum. The recent mother has style like no other and even her own children are always dressed to impress!

Check out her style.
4. @aloyallove
This future mum owns those camo knee-high boots and knows exactly how to style her bump. I mean I don't even dress like that and I'm not pregnant. Not sure what that says about me.

Check out her style.
5. @adaezeyobo
Just because you're pregnant doesn't mean you can't wear a dress that hugs your curves, and this expecting mother proves just that. However, she totally has the right idea when it comes to the flats she's wearing; with all the details, they only add to the look.

Check out her style.
6. @princessjonalyn
Talk about flawless amiright? I love how this soon-to-be mummy made a cozy dress look edgy with her black jacket.

Check out her style.
7. @isamunevar
Wait, rocking white and heeled booties? Love it!

Check out her style.
8. @leeshnicolee
In this poncho, not only does this mummy-to-be look so comfortable (isn't that what all pregnant women want?) but gorgeous as well. It's almost unfair, no?

Check out her style.
9. @happysideofmylife
New mum to a handsome baby boy, Christine rocked her pregnancy with simple but sophisticated looks and continues to do so today even as a busy mother.

Check out her style.
10. @mommychicbyjessica
With three children already and a fourth on the way, fashion blogger Jessica is glamorous wherever she goes. If you ever need tips for maternity style, this is the woman you need to go to.

Check out her style.
11. @twentyeightvia
With a baby on the way, this stylish mum-to-be dresses up like it's Fashion Week every week. And that's not a bad thing. All of her outfits are on point.

Check out her style.
12. @stylebyalina
Alina Dinh is so gorgeous it's actually unfair.

Check out her style.
13. @rachparcell
With a mother as trendy as this, the baby that pops out of that belly is going to have fantastic style advice when (s)he grows up. And as it turns out, you can totally wear a little black dress when you're pregnant.

Check out her style.
14. @d_win
Diem Nguyen is like a pregnant goddess you guys! I mean look at that elegant and beautiful red dress. Is this even real life?! I totally get what everyone means when they talk about pregnancy glow.

Check out her style.
15. @styleforage
Honestly, I don't even look like this on a good day. This beautiful mother actually makes the cold of winter and snow seem appealing. I especially adore her faux fur coat. Not only is it the sign of a pure fashionista, but she's also keeping that little girl (or guy) bundled up.

Check o​ut her style.
16. @cozychicmommy
I admire how carefree and cozy (just like her Instagram name) this mother is. With one sweet child already and a second on the way, this mum has remained stylish through it all. Her style is preppy and sweet, but also practical.

Check out her style.
17. @sjoymartin
As a mother of two precious boys, Sarah Martin is already happily expecting a third. Through all the pregnancies, she still manages to look like an angel. This outfit basically screams stylish mum on the go.

Check out her style.
18. @glamyork
Glamorous doesn't even begin to cover Brittni Brown. She looks radiant in this casual beach photo and she's just wearing a coverup! This mama is taking NYC by storm.

Check out her style.
19. @sarahcdw
In case you were wondering, this stunner was at 16 weeks when this photo was taken. Yep.

Check out her style.
20. @meganquint
This lovely mother absolutely rocks this bold look. With the perfect accessories to accompany the bright colors on her dress, Megan Quint Gressel knows exactly what it means to be a fashionable mother.

Check out her style.
21. @gaelyn
Ripped jeans, Converse and a leather jacket? Yes please! You were probably looking for more casual-but-not-frumpy looks and I found the pregnant style inspiration just for you. #yourewelcome

Check out her style.
22. @shyshy43
I've already fallen head over heels for this fall meets winter look. It's very Cher and Dionne from Clueless and obviously there's nothing better than that! Not to mention this outfit is perfect for several different occasions.

Check out her style.
23. @styleinthemittenmomma
Even as a full-time mum, Andi remains quite the style guru on Instagram. Hockey practice and gymnastic lessons? This busy mother makes it all look easy even whens she's on the run with all her children.

Check out her style.
24. @lexi4316
A loving mother of two boys, Alexis Reddy makes being a fashionable mother look effortless. This runway worthy style is so simple, and I respect anyone who can pull off wearing all black.

Check out her style.
25. @seeannajane
There are no words.

Check out her style.
Do you think you're a fashionable mum? Tweet us @sofeminineUK!
This article was written by Emma Goddard. Follow her on Twitter @egoddardhokie.
Here are some celebrity mummy's who look great pregnant.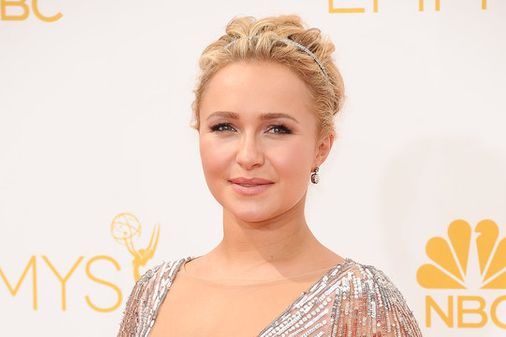 © Getty
You Might Also Like:
24 Questions Children Ask That Parents Can't Answer
Why Children Wet the Bed & How You Can Deal With It As a New Parent
Fashion Toddlers! 25 Photos Of Kids With Style