While they're at the top of many perfect body wish lists, big breasts can sometimes be a fashion foe as many styles are more flattering for women with less of a chest, but if you're the proud owner of a cracking cleavage there's no reason why you can't be fashion-forward too and show off what nature blessed you with!
We've spoken to the curvy fashion experts at Navabi to find out the secret styling tips to dress your shape to perfection no matter what the trends. You can dress your bust to look more like an off-duty Christina Hendricks than an on-stage Christina Aguilera.
Take your style lessons from fellow busty fashionistas like Beyonce, Kelly Brook and Kim Kardashian to flatter your shape in all the right ways.
Dresses
If you're top heavy and shopping for dresses then dare to wear styles with plunging V-necklines! Navabi say: "If you do not feel comfortable with a low cut model, there are other options as well. A narrow, high-cut shift dress subtly follows your contours and is irresistibly seductive."
Think Kelly Brook, she rocks the flirty look, without too much boobage.
Dresses with asymmetric cuts and just one strap also cover the décolleté for the most part yet still give a feminine and elegant silhouette.
If you would rather not emphasize your body so much, you can choose a loose-fitting sweater dress instead. Here, the same rule applies: no oversized pieces, otherwise the overall look becomes too voluminous.

Remember - it's about skimming or enhancing your bust area without adding inches to the rest of you.
Blouses
If you like wearing blouses like Caroline Flack try playing around with block colours.If you can find a blouse with a loose and slightly tailored fit, then even better. Caroline gets away with some sky-high necklines and manages to minimise her bust while she's at it.
The trick is opting for simple styles. Don't go for elaborate ruffles and flounces as these will just make your bust look even bigger.Instead leave the top button open to create a V-neckline - this easy styling trick draws the eye down and visually streamlines your shape.
Tops
Your tops should have a body-hugging cut, but take care to avoid any cutting in or pushing up of the bust. Instead of a round neckline, go for a narrow V-neck. This elongates the torso making the neck look longer and your décolleté amazing!
Jumpsuits
A jumpsuit can look great on women with big boobs. There are a lot of different designs with straps, short sleeves, long sleeves... the list goes on. Choose a jumpsuit in a dark colour with a narrow V-neck and if you don't want to show your arms go for long sleeves. You can jazz up the outfit with accessories like a pair of nude high heels and a colourful statement necklace.
Coats
Navabi say that when it comes to finding a coat to cover big breasts a low cut, single breasted jacket is your best choice. Double breasted jackets and coats bulk up precisely the area you want looking smaller, so steer well clear.
Bikinis and beach wear for big busts
You might think that if you're big of boob then black is a safe option in the beachwear department but it doesn't have to be that cut and dry.There are certain colours that have a better slimming effect - navy, blue and violet hues are all colour companions when it comes to making things look smaller.
The key to choosing swimwear for big breasts is to find designs that give the maximum of support. It's best to go with wide straps, as they not only support a bigger bust, but also guarantee comfort.
Tops with underwire or molded cups provide extra support and have one big advantage: your waist will appear smaller in an instant.
V-neck or deep neckline cuts make a big bust look smaller and flatter broader shoulders at the same time. Stay away from strapless or bandeau tops, as they do not provide any support for a larger bosom!
What to do
Get a minimiser bra
Navabi say: "Choosing a minimiser bra is always a very good idea as it will reduce the bust by a cup size, thanks to its special cut and construction." So make a bra investment to give yourself more fashion options.
Choose the right fabric
Choose soft textiles like jersey, cotton or cashmere. Even when that means investing a certain amount: premium quality materials guarantee that your clothing will fit perfectly.
Get handy with a scarf
Loosely draped scarves can elegantly cover up a large chest.
Accessory trick
Last but not least, long necklaces are not only on-trend, but they also have an elongating effect drawing the eye down and past your boobs.
What not to do
So we've got some of the main wardrobe staples down, but there are some other simple styling rules to stick by if you want to flatter a big bust:
Avoid
Avoid wide flowing tops,they will only make your bust look bigger!

Steer clear of horizontally striped tops, halter-neck tops, empire designs and baby-doll dresses, satin fabrics and sequined tops - these all accentuate an ample bosom and make it appear larger than it actually is.
Materials like satin, thick materials like velvet or chunky knit visually bulk up the bust. Beware of accessories like brooches and short necklaces – they accentuate an ample bosom!
For more style tips and tricks for your body shape check out our other style advice features or head to Navabi for fashion for your shape!
Looking for inspiration? Here is how big boob celebrities style they asserts.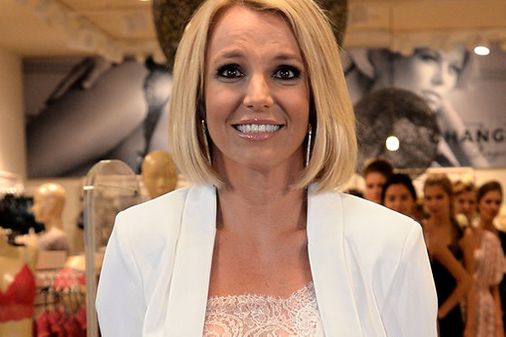 Celebrities With Big Breast
Will you be trying out these tips.Tweet us @SofeminineUK
You Might Also Like...

Fashion Toddlers! 25 Photos Of Kids With Style

Looking Fab For Less! 10 Ways To Be A Budget Fashionista

10 Lessons in Self-Confidence From Plus-Size Models