If you've been dyeing (sorry) to jump on board the rainbow/pastel/glitter hair trend but aren't quite cut out for looking like Kylie Jenner gone wrong, then hidden-rainbow hair is here to answer your prayers.
The dye-job involves putting slices of different colours (from pastel to jewel or both, the possibilities are endless) underneath the top layer of your barnet, meaning you won't get fired from your job with the strict dress code but you've now got an awesome new party trick to show your friends - what more could you want from a hairdo, apart from superpowers?
The mermaid/unicorn phenomenon is the creative genius of senior colourists of Not Another Salon in East London which revealed the mesmerising and viral results of one customer's dye job on Instagram recently. But savvy app users are one step ahead of the professionals as they've been using the #hiddenrainbow hash-tag for months, offering us a world of inspiration. Just feast your eyes on this lot...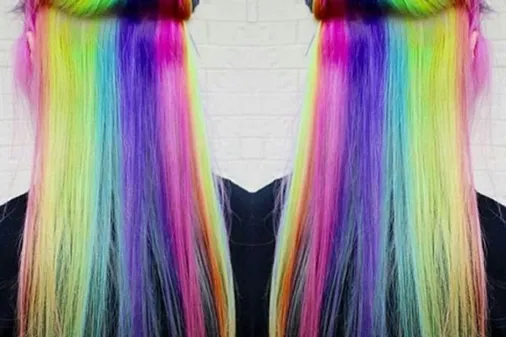 © Instagram
If that wasn't enough to persuade you to go to the bright side, just look how cool it looks:-
Will you hitting the bottle? Let us know @soFeminineUK
You might also like...
If You Loved Glitter Roots You Need To know About The New Hair Stencils Trend
Rainbow Freckles: The New Beauty Trend Guaranteed To Add A Little Colour To Your Life
Kylie Jenner's Hair History: Every Colour And Chop She's Ever Had