The star took a moment out from her Diamonds world tour to get her hair extensions fitted, before deciding to have her hair dyed grey.

She's had almost every shade possible with black, blonde, ginger and caramel on the list just this year. But her choice to go several shades of grey shouldn't come as the biggest surprise - this is sexpot Rihanna we're talking about.
The S&M singer tweeted a pic to share the results of her bold new look - showing patchy grey tresses with an ombre touch. We're not decided whether this makes RiRi one sexy silver fox, a gorgeous grey or granny chic, but one thing's for sure - Rihanna's happy with the results.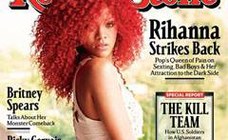 © Twitter
Rihanna's grey hair
She said: "New color ice grey ish, call it #Brrr. Grey is the new black. Blondies it's quiet for you all."
Sounds like Rihanna wants the world to follow in her icy footsteps and silver their tresses for an edgy new look. ​
Grey is definitely the hue to do if you're a fashion-forward thing - the likes of teen blogger Tavi Gevinson, Kelly Osbourne and Kate Moss have all gone over to the grey side for a while.
But how long will Rihanna keep her hair a grungy shade of grey? Only time will tell!​
What do you think of Rihanna's new silver mane? Is grey a yay or nay? Tweet us @sofeminineuk

© Getty
Rihanna