Some hairstyles never go off-trend and the side chignon is definitely one of them. Sophisticated, sexy and chic, no wonder a classic chignon is a red carpet regular. Favoured by stars like Jessica Alba, Taylor Swift and Kate Middleton, the chignon can instantly give your look an expensive make-over. The best bit about it is that it's super easy to recreate at home.
To show you how it's done we teamed up with Fletcher, Hairstylist Director at Harrod's Urban Retreat (one of our favourite places for pampering) to find out his insider tips and tricks for a perfect side chignon.
Once you've watched the video below you can get experimenting with your very own chignon style, whether you want an ultra polished finish like Kate's or a subtle sleek knot like Diane Kruger.
​
Our fave way to wear the chignon is to keep things loose and soft around the face - so if you have a fringe let it tumble out and break-up the look so it's less severe.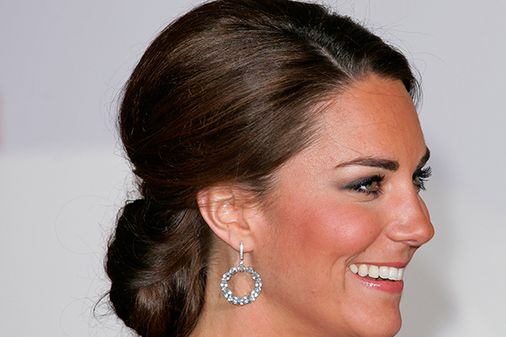 © Getty
Kate Middleton
Watch the video here:
A side chignon: Step by step
1. Build volume into the hair by adding a volumising product - a mousse or spray is fine.
2. Divide the hair into sections and use curling tongs to give the hair some body. Pin each curl to the head and wait for all of the hair to be curled and pinned and importantly, fully cooled down before removing the pins.
3. Split the hair into a dramatic side parting to enhance the face shape.
4. Section the hair off behind the ears and use this hair for the ponytail to keep the look soft and sexy.
6. Take a small section from the crown and backcomb it to give more height.
7. Take a hairband and attach two kirby grips to it. Pin one grip into the hair and gather the band around the hair to create a ponytail. Rather than taking the hair through the elastic just wrap the band around the hair and secure it in place with the other grip. This keeps the hair looking soft and keeps that volume.
8. Separate the hair in the ponytail into two pieces and tie it in a knot.
9. Hold it around the elastic and secure the knot with pins.
10. Take the front sections and make sure they have volume at the root - give them a little backcombing if they need more wow factor.
11. Then take each section and wrap it around the chignon - you can twist the sections for a soft romantic finish.
12. Finish with some shine spray!
Love the side chignon? Give us a tweet with a pic of your DIY chignon results @sofeminineuk