Forget battling with your hairbrush and lacklustre left-down locks, if you're struggling to master a fail-safe updo then you can't go wrong with this one. The perfect braided updo is a simple affair - just three seperate braids that come together to create one knock-out look that's sure to sizzle.
Sexy, romantic, edgy or chic, this look can be worn in any number of ways, but the trick is to start with your foundation - and we're not talking face base.
​Getting texture and hold into the hair before you work it into an updo is the hush-hush hairstylist secret that we've stolen from Fletcher at Harrods Urban Retreat. As Hairstylist Director he knows his stuff so it was him we called upon to teach us a thing or two about how to master the perfect braided updo.
​​With a little help from the pro's we've put together an easy to follow hair tutorial so you can start straying away from your trusty pony and branch out into a more romantic version of you. Get the date dresses ready - the masses are about to fall in love!
Watch the video here: How to do a perfect braided updo
The secret to a perfect braided updo is all in the prep - and that means product. So get ready to spray, powder and poof your tresses to statement hair perfection.
Fletcher suggests using Unite's Expanda Dust to prepare the hair with a touch more hold. This magic powder adds grip and texture to your tresses without weighing them down so that it will hold in place - there's no fear that your hairstyle won't flop out after a day of romantic gazing and head twirling.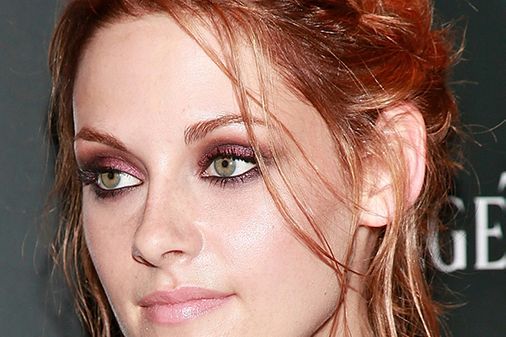 © TGett
Kristen Stewart's braided updo
So let's get down to the step by step guide!

1. Brush hair and spritz some volumising spray onto dry hair.
2. Blow-dry your hair to set the product and give your hair more texture.
3. Part your hair just above the eyebrow and sweep it over to one side.
4. Prep the hair with some Expanda Dust or Dry Shampoo.
5. Braid this section of hair starting at the top by dividing it into three pieces.
6. To get a softer, more flattering look keep the braid loosely plaited and take most of the hair from the underside (nearer to the face) and just a little bit of hair from the top side.
7. When you get just past the ear take the braid down to the length of the hair and take all of the hair from the underside.
8. Leave this braid to one side - you can clip it up or put it over your shoulder.
9. Take a section of hair from the other side of your head - taking the hair that's in front of the ear and leaving this to one side - you should be left with a section of hair at the back.
10. Take this remaining section of hair at the back and plait it into a very loose braid keeping it soft.
11. Take the section of hair in front of the ear and braid this into another loose braid.
12. Tie the loose braids together in a knot then unclip the first braid and wrap it around the other two braids at the nape of the neck.
13. Fasten the braided bun in place using different sized hair pins.
14. Tease out the roots of the hair to keep the look nice and soft.
15. Finish with a high shine spray - and take your hair out on a hot date!
What's your favourite updo style? Tweet us @sofeminineuk!