We've all got that one thing we'd love to change given the chance but not all of us are down for cosmetic surgery. Unless you've been blessed with a Frankie Sandford button nose the chances are you'd love to swap yours for a prettier, smaller, version.
If only it was thinner, shorter, cuter - we've all been there, prodding our noses in the mirror, taking profile selfies and imagining our dream snouts without their bumps and imperfections.
But what if eyeshadow, concealer and bronzing beauty goods could change the shape of your nose? Well apparently they can.
Luckily, Simon Cowell's make-up artist Julia Carta knows her stuff when it comes to contouring, concealing and covering - here's how you can create the illusion of the perfect little nose. Forget Dynamo, this is real magic in action.
Wider nose
Noses come in all different shapes and sizes, you might want to slenderise your nose, make it look longer, shorter, thinner or wider so it's good to experiment with contouring to achieve your desired shape.

Julia says: "If you have a slightly wider nose apply a foundation that is one shade darker than your regular make-up on both sides of the outside of your nose. Sheer Cover Studio Perfect Shade Mineral Foundation is perfect as it is mineral based so sits on top of the skin and will prevent any shine. Once you have applied the darker shade, blend thoroughly toward your cheeks. Next choose a lighter shade and apply just a little to the bridge of your nose to highlight the thinnest part."

So that's how you get that Jennifer Lawrence pinched effect.
Long nose
"If your nose is a touch long, simply apply a darker shade of foundation on the tip and underneath the tip (between your nostrils) to make your nose appear shorter."
As with any make-up, blending is a must and even more so when it comes to contouring. At sofeminine HQ we like to use a bronzing stick down each side of the nose, to the top of the eyebrow down to the top of the nostrils and then blend with a make-up sponge. This will make for a seamless base before moving onto concealer and highlighter.
Focus on other features
"You can also accentuate other parts of your face which will take emphasis off your nose, and contouring is a great way to achieve this. Define your cheekbones and brows by applying Body Bling, which will create the illusion of definition. You could also apply a tiny amount to the bridge of your nose to create a slimmer, prettier look."

The sofeminine beauty team swear by a pearlescent highlighter to create the perfect dewy glow - try a touch of The Body Shop's Radiant Highlighter on the bridge of your nose to soften and straighten the shape - just a dab as too much shine will have a widening effect.
Bold lip
"Always bring colour to your lips, as this will draw attention away from your nose and divert to your mouth. A red lippy is the perfect distraction and is also a classic look."
Avoid heavy eye make-up
If you're trying to take the attention away from your nose it's best to avoid heavy eye make-up:

"Many people believe that bold eye make-up will draw attention away from your nose but sometimes this is not the case. Avoid heavy eyeliners and go for a more natural look."
Brighten up with concealer
"Dark circles under your eyes can also draw a lot of attention to the nose area, so try an eye brightener/concealer to take the focus away. Sheer Cover Studio Conceal & Brighten Trio is perfect for this as not only does it include a creamy duo-tone concealer but it also has an eye brightener that instantly perks up tired eyes, all in one handy compact."
Handy hairstyles
Award winning hairstylist, Michelle Griffin, says making your nose look smaller can be achieved with some clever hairstyling.
She says:​ "Wear hair with a side parting, usually a centre parting will draw attention to the nose. If your nose bends slightly to one side, create your parting on the opposite side to balance your face.
"Volume at the back of your head will also help to balance a prominent nose. Use a gel to create volume and shine. The fullness of the hair will help to soften your features."
Are you a pro at contouring like a Kardashian? Or do you know any other tips for making your nose look smaller? Tweet us @sofeminineUK
Check out the celebrities that love creating the perfect nose with contouring: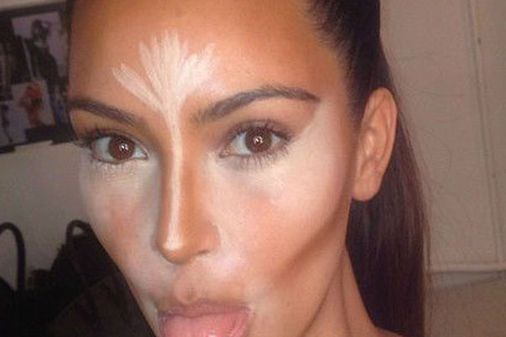 © Pinterest styledbysheena.blogpsot.com
How to make your nose look smaller: Clever tips