Rihanna is definitely the one to beat when it comes to sexy selfies and sultry boudoir shots - so when her latest racy pic landed on Instagram we can't say we were surprised.
The Diamonds singer shared a preview snap of her new fragrance ad for the yet to be released 'Rogue' - and true to its name the photo was all kinds of mischievous.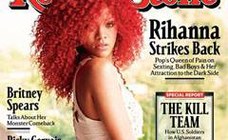 In the kinky campaign shot, Rihanna smoulders in a sulky pose while slumped against a huge life-size bottle of perfume.
Naked all but for high-waisted (and buttock-baring) pants and sky-high stilettos, the Bajan singer gives us all a lesson in how to sell perfume.
She captioned the snap: "'#ROGUE #byRihanna campaign image!! For the ladies! Men's coming soon…"
The black and white image of Rihanna is presumably supposed to draw your attention to the full coloured perfume, but if we're honest it's Rihanna's pins that we're busy ogling at.
If this is the preview we can't wait to see what the full campaign will be like. Full frontal nudity, S&M themed fun? Who knows, this is Ri-Ri after all.
Rihanna's perfume hits shops in September.
What do you think of Rihanna's raunchy fragrance campaign? Tweet us @sofeminineuk