As beach season draws to a close and autumn creeps in, there's no reason you still can't get the benefits of the sea even after you've come back from your holiday.
From salt scrub's detoxifying minerals to seaweed's revitalising extracts, your skin, hair and nails will look and feel holiday fresh.

​Hey, it might not be as glamorous but they'll get you feeling like a goddess in no time. Here's what you need to know...
Sea Salt
Made from the evaporation of sea water, sea salt is one of the most pure and prettifying minerals in the word.
Founder of Artisan Spa Company, Amanda Nelson says, "A good quality whole sea salt contains a broad spectrum of at least 75 minerals and trace elements making it one of the sea's most sought-after properties for the skin.
"Soaking in warm bath water and natural whole sea salt creates a dynamic exchange within the layers of the skin. As you lie back and relax in warm salty water your pores open, toxins are drawn out and the trace elements and minerals are drawn in to the skin – cleansing, alkalising, toning, softening and nourishing all at the same time." Just like you've taken a dip in the sea!

Ultimately the benefits of sea salt can help strengthen and cleanse the skin, improve skin tone, balance your pH, promote tissue repair, help against the effects of ageing and encourage skin hydration. So if you're back from holiday and still want to get the same beauty benefits of sea salt on the skin, buy a natural whole sea salt scrub mixed with nourishing oils. We recommend Dead Sea Spa Magick Salt mixed with silkening coconut oils and vitamin E - the perfect post holiday treat for your skin. What's not to love?
Marine Collagen
Looking for a treatment just as beneficial as Botox (without the face freeze)? Here's what you need to know...
Collagen in our body is a fibrous protein that helps keep our skin firm and plump. It's found in all of our connective tissue including bones, muscles, blood vessels and skin. But the problem? As we age our body doesn't produce as much, causing wrinkles, sagginess, forehead lines, crows feet and pretty much everything else we dread about old age. But there may be something that can help.
"Marine collagen is an active peptide originating from fish, providing the amino acids required for the correct functioning of skin cells. This collagen is tailored for skincare and particularly good for anti-ageing," says Future Nutrition Nutritionist, Catriona Kelly.
The great thing about marine collagen is that it's quickly absorbed into the body without the harmful effects associated with collagen from beef and pork (YEP that's where most mainstream collagen comes from). Research shows that collagen production is reduced by 1.5% each year from the age of 25, which means we should start taking care of our skin well before the signs of ageing appear.
DermaGlo is one great way to boost your collagen. This beauty drink uses marine collagen (which is up to 1.5 times more effective than other types of collagen) specifically designed to reduce the appearance of fine lines leaving the skin radiant and younger looking.
Dead Sea Mud
With over 26 different minerals, it's no surprise the Dead Sea is considered 'nature's biggest spa'. Slather yourself in Dead Sea mud from head to toe and feel your skin drinking the nutrients.
Not only will your skin appear more hydrated but the mineral rich content will help oxygen flow ​more efficiently throughout your body leaving you glowing.
Kalmora Spa's spa manager and therapist, Maxine Bath says, "Applying minerals from the Dead Sea to the skin or hair will replenish vital minerals in the body resulting in a healthier looking complexion, stronger, shinier hair, and a perfectly relaxed state of mind."
If you're not holidaying to the Dead Sea anytime soon there is a way you can bring the Dead Sea from Israel to your home. Protect and nourish your skin with sea-inspired facial masks such as the Dead Sea Spa Magik Boosting Mud Mask which will help remove all impurities from the skin.
Seaweed
You know those slimy green plants that wash up to shore that you're always trying to avoid? Well, turns out, seaweed is a marine miracle for our skin.
Skincare expert at VOYA, Hollie Hasting says, "As seaweed sources it's nourishment from the sea, it absorbs an incomparable abundance of beneficial ingredients that helps your skin in different ways.

"Seaweed is known to naturally cleanse and purify your skin, helping to improve its suppleness and elasticity. It also helps reduce the signs of ageing by toning, smoothing, moisturising and stimulating skin cells."
If you want to get the most of this humble plant's benefits at home, bring the seaweed to your bathroom with VOYA's Lazy Days seaweed bath. Once placed in a bath of hot water, the VOYA Lazy Days seaweed produces luxurious oils which will be absorbed into your skin whilst you lay back, relax and imagine you're on holiday again!
Algae
Algae offers an abundance of skin-loving benefits including vitamins, minerals, antioxidants and proteins helping give your skin a new lease of life.
Similarly to larger marine plants, teeny tiny algae is also beneficial to our skin. In fact, some people will be surprised to find out that it's already in many of our skincare products that we use today. There are many types of algae used including brown, red, and blue-green which all contribute to flawless skin.
Founder of Elethea Skincare, Nausheen Qureshi says, "Substantial quantities of minerals essential for key biochemical cell-to-cell processes within the skin are present [in algae] including potassium, zinc, iron and calcium." Which will help strengthen your skin's natural barrier function helping retain vitamins, mineral and water. The result? Gorgeous. Hydrated. Skin.
Spirulina is just one of the thousands of algae available to us in the big blue. It's incredible for our health so just think of the power it has over our skin.
Bring the shoreline to you. Here's a round up of the latest marine products we love...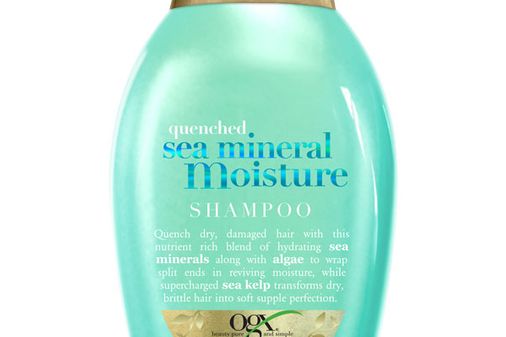 © OGX
Sea Mineral Shampoo, OGX, £6.99, www.superdrug.com
Are you bringing the sea to your home? Tweet us @sofeminineUK!
You might also like:
The Miracle Tree? 10 Amazing Health Benefits Of Tea Tree Oil
A Flat Tummy And Gorgeous Skin? The 12 Amazing Benefits Of Papaya
Beautiful Skin & A Healthy Heart: 7 Of The Best Omega-3 Benefits