Bristles, brushes and combs, oh my! When it comes to putting on makeup, the options of selecting the perfect brush can be intimidating. With so many shapes, sizes, and densities available, it seems as though there is a brush for just about EVERYTHING.
It's so important to use the correct brush when applying makeup. Not only will you look amazing, but your makeup will last longer. And that's a double win.
So how is a normal girl supposed to know what kind of makeup brush to use and when to use it? We went to beauty blogger Lexi from Lexisticks94 to find out.
How To Use Each Brush:
Kabuki Brush
The Kabuki brush is perfect for bronzers to help you achieve that sun-kissed glow all year long. It's large size is made up of densely packed bristles, which is perfect for blending bronzer into your natural skin tone. Many women love the Kabuki brush because it's firm composition allows make up to easily glide on your face, flawlessly. Just make sure you wash your brush at least once a week to avoid unwanted break outs.
Blusher Brush
Perhaps the most iconic brush of all, every woman needs to have the perfect blush brush on her at all times. NEVER use the tiny, flat brush provided in your blush compact. Instead, invest in a medium sized, rounded brush with a long handle to achieve a luminous rosy tint no one can deny. Brushes made up of natural hairs are preferred, although a brush with a natural and synthetic blend of bristles works well, too.

​ "My favourite is RealTechniques Blush Brush because the thin bristles pick up the lightest amount of product for that 'natural flush' while also being buildable" says Lexi.
For perfectly blushed cheeks, Lexi recommends "pulling in your cheeks again and then follow the hollow made by the contouring. Then move the brush (saturated lightly with product) in oval-esque motions over the contour until the desired colour is reached.​"
Shadow Brush
Eye shadow can very easily be a girl's worst nightmare. One swipe in the wrong direction and your smokey eye can turn you into an ex-member of Fight Club. To avoid messy eye make up, opt for a brush with short, densely packed bristles.

The ideal eye shadow brush is about 1/2 inch wide, perfect for grasping onto the shape of your eyelid. "An angled crease brush is slightly stiff and has a light colour pickup, so it can be used to darken or lighten the crease of the eye," says Lexi.
Eyeliner Brush
When it comes to makeup, blending is key especially for your eye makeup. When applying a thick, bold pencil liner, use an eyeliner brush to swiftly sweep your liner into your lash line, all while elongating your lashes. A brush with a small, firm squared tip is ideal for this action to ensure an amazing set of eyes. It's tip allows you to apply a perfectly precise and even line.

"My favourite brush is the Bobbi Brown Ultra Fine Eye Liner Brush because the long handle and precise tip makes it easy to achieve an even straight line, or a playful cat eye," Lexi recommends.
Spooley Brush
Brows are the frames to the face, and thanks to Cara Delevingne, we are all putting a little more effort into our forehead friends. Many brow liners have a brow brush on the opposite side for an easy way to keep your hairs in place. These work wonderfully, but if you REALLY want to achieve brow perfection, makeup artists recommend using a spooley brush.

Spooley brushes are almost identical to mascara wand tips and will groom your eyebrows while blending powders and other face finishes in between your tiny hairs. Spooley brushes are also great for de-clumping mascara!
​
Lexi recommends MAC's 208 Angle Brow Brush because it delivers flawless brows every time whether you're using powder or gel brow dip. The bristles are soft but structured, and they deliver the perfect amount of product for shading in brows and forming them with an outline.
Concealer Brush
When using a concealer brush, you should make sure it is small and stiff. This composition will allow you to add make up exactly where you need it. This small and powerful brush tip is perfect for highlighting and contouring your face. Closely packed nylon bristles are ideal in applying your concealer to all those hard-to-reach places. It is perfect for hiding those unwanted bumps thanks to its small, stiff surace.
Foundation Brush
Are you a fan of the foam wedge? Well, listen up, because it's time to stop! To achieve a flawless foundation base opt for a brush with a blend of natural and synthetic fibres. The natural fibres in the brush will lift up your hairs allowing the foundation to swiftly blend into your face while the synthetic fibres will prevent the pigment of getting clumpy. The shape of your foundation brush should be flat with a molded tip to blend your makeup effortlessly. Don't forget to wash your brush often to avoid spots.
Powder Brush
A round, medium sized powder brush is ideal for all skin types. This shape and size will allow the powder to go on only in the places it is needed. Soft bristles are also a must as you don't want to scratch your face when achieving a captivating complexion.

Lexi advises to "apply a bit of pressure over the entire face, starting with the cheek until the desired coverage is reached. Then, even it out by swiping the empty brush over your face to remove any excess powder after the application is finished."
Lipbrush
Yes, there is even a brush for your lip. You should use them when you are looking for more control and trying to keep your lip stick, stain or gloss within your lip line.
​The best lip brushes are made from synthetic fibres, which allow your lip colour to go on without sticking.
Check Out These Celebrities For Flawless Makeup Inspiration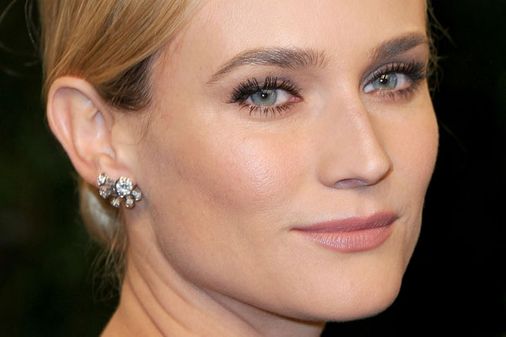 © Getty
Diane Kruger
What's your favourite makeup trick? Tweet us @sofeminineUK!
This article was written by Lindsay Reed. Follow her @lindsayreednyc!
A special thanks to the expert advice of Lexi from Lexisticks94!
You Might Also Like: