We always want what we can't have, and thanks to the likes of ScarJo and Angelina Jolie, we want full, luscious lips. Who doesn't want pillowy lips that are just begging to be kissed?

When it comes down to it, lips are a woman's best accessory. A perfect pair of lips can not only make your look, but can give you instant sexiness. Whether you're going for a natural lip in nude or dusty rose, or daring to be bold in flaming red or bombshell pink, there are four easy steps that can enhance your pout size in under ten minutes.
Professional makeup artist Wendy Perez gave us her best tips on how to make your lips look bigger!
Follow these rules to enhance lips instantly:
Use a lip scrub to exfoliate your lips
Use products with peppermint as an ingredient to naturally plum your lips
​Use a lip balm to make sure your lip colour will last
Line your lips to prevent smudging
Fill in Your Lips with a liner for a bold colour
Gloss your lip colour for a luscious lip finish
1. Prep your lips
Texture is key when it comes to the perfect pout. Prep your lips the night before with GlaMER Lips lip scrub. The lip scrub helps exfoliate the dead skin off of dry, chapped lips and promotes blood flow to the lip, which makes them plump. For those of you trying to save a few cents, you can make your own lip scrub using some olive oil and sugar at home. Simply work the scrub into your lips to eliminate flakey patches.

Before you apply any make up, also apply Jack Black Intense Therapy Lip Balm in natural mint to ensure your lip colour lasts and radiates throughout the day.
2. Line your lips
To give the illusion of larger lips simply outline slightly outside of the lip and blend inward. You want the follow your natural lip shape but enlarge it just slightly to give it some extra umph. Wendy's tip is to use a colour that is a shade darker than the lip colour you are using. This will prevent your lipstick from straying outside the lines. After outlining your lip shape, fill in your lip with another lip pencil that is the same shade as your lip colour - this will give your pout extra staying power.
3. Apply lip colour
Add on your favorite lip colour! To maximize the size your lips stick to long-wearing formulas so that you don't find your lipstick feathering outside of the lip lines and smudging.
Hot pinks, reds, and oranges are always great go-to colours for a bold lip choice, but nudes, peaches, and pastels are always a classic for an effortless appearance!​
4. Gloss it up!
Adding a gloss instantly makes lips look more plump because of the way the light reflects off of them. If you add a product with peppermint as an ingredient, it actually plumps them too!
​Many brands have clear glosses you can purchase to mix in with your lipsticks and lip stains, so you don't have to buy a new product every time!
A huge thanks to make up artist, Wendy Perez!
What we used:
GlaMER Lips lip scrub
Jack Black Intense Therapy Lip Balm in Natural Mint
Nicka K lip pencil in nude
NYX Lipliner Pencil in Bloom
Limecrime Velvetine lip colour in Pink Velvet
Maybelline Shine Sensational lip gloss in Minty Sheen
Check out these celebrities for some luscious lip inspiration: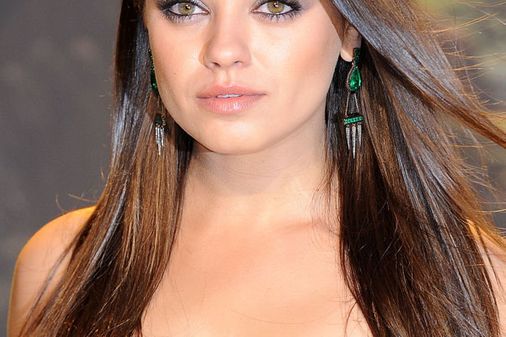 © Getty
Mila Kunis
What's your favourite lip colour? Tweet us @sofeminineUK!
You Might Also Like:
Clumpy Lashes, Contour Lines And Clown Lips: The Cringeworthy Makeup Mistakes We've All Made

​What Every Girl In Her Twenties And Thirties Needs To Know About Skin: The Secret Signs Of Ageing

Make-Up Tutorial: How To Contour Your Cheeks Like Victoria Beckham