When it comes to off duty locks Miss Chung has got the midas touch so it's no wonder she was named as the next celebrity to front L'Oréal's Professional INOA colour campaign.
The brunette beauty constantly tops the best dressed polls and now thanks to her latest gig with L'Oréal, she's going to be leading the way for beautiful barnets too (as if she wasn't already).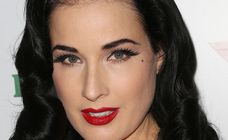 In the snapshot posted on Instagram, Alexa looks doey-eyed with her classic parted 60s fringe and smouldering eye make up.
Sporting a festival friendly milkmaid braid with flyaway strands and plenty of texture, the TV presenter stays true to her vintage style in a powder-blue shift dress.
The fashionista and front row addict looks like she's rocking a brand new shade too, is that a red hot hue we spot?
She's a far cry from her fellow glammed up L'Oréal ambassadors but whilst she may not have the gloss factor like Cheryl Cole and Eva Longoria, Alexa's certainly got the London look going on and we wouldn't expect anything less.
This season's summer hair is all about the messy updo and who better to promote tumbling hipster tresses than the Chungster.
Talking about her L'Oréal campaign, Alexa said: "I am delighted to be working with such an iconic brand. L'Oréal Professionnel is behind some of the amazing looks on the catwalks in London and Paris so I'm really excited to join the team."
You're not the only one Alexa, we can't wait for the full campaign to hit our screens.
How to do a milk maid braid
For an Alexa Chung approved milkmaid braid all you have to do is:
1. Separate your hair into two sections behind the ears and tie in bunches.
2. Backcomb the bunches before plaiting and secure with clear elastic bands - don't be afraid to leave a few shorter strands out the plaits.
3. Wrap the first plait over the top of your head and secure with two kirby grips just above the ear. Repeat this action with the other plait, making sure the braid is visible from the front (an inch behind the hairline).
4. Finally, pat the hair down, tightening any loose strands or pulling some out for a lived-in effect. Secure with hairspray.
Check out more of her hot hair looks in our gallery:

© GETTY
Alexa Chung hair: First look at her L'Oreal campaign!