Is any sassy dress ever complete without a pair of skyscraper heels? You know the ones that are so high they make you wince just by looking at them? The short answer is no but with sassy style comes great discomfort because unless you're like my Nan who wore heels practically every day since she came out of the womb (and with complete ease might I add) then I'm guessing heels hurt your precious tootsies.
Unfortunately, ​for the majority of the heel-wearing community - whether at work to convince your boss and colleagues you're a proper professional or while throwing shapes on the dance floor on a Saturday night - tottering around in six inchers is an experience so uncomfortable it makes you feel like dumping your whole collection and retiring yourself to the flat shoe life.
But there's now a cure for the pain caused by wearing heels. Enter: 'Feet fillers'. Also known as 'Botox for the feet', this cosmetic procedure promises to ease the discomfort of wearing heels with the aid of dermal fillers which are injected into the balls of the feet to create an immediate 'cushioning' effect that lasts 6-12 months with minimal downtime. Eek!
To put it simply, most dermal fillers contain a naturally-occurring substance called hyaluronic acid (HA) and when injected, HA takes up about 1,000 times its own weight in water, plumping up the area of skin and smoothing any lines & wrinkles. For the feet, it has the same effect, forming a gel-like cushion which offers protection and comfort to any high-heel fanatic.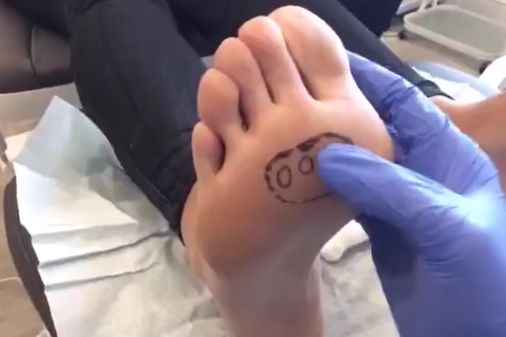 But is it as good (or as painful) as it sounds? Dr Munir Somji, Chief Medical Officer at Dr MediSpa was one of the first in the industry to offer such a treatment and cites the procedure as one of his favourites.
He told us: "Botox for the feet is a procedure where I identify areas where there is less cushioning for the sole of the foot; when we stand on our tip toes the natural fat pad that cushions the sole of the foot moves out of the way, so when we wear heels the bone is in contact with the floor. It provides specific cushioning at this point with the use of dermal fillers and can last 6-12 months."
How does it work?
Feet filler provides a cushioning-type effect with the use of dermal fillers (injected with a needle) which takes 15 minutes so you could fit an appointment into your lunch break if you so desire. There's minimal downtime and you'll be able to walk immediately afterwards thanks to the local anaesthetic in the fillers but you will have to wear flats for two weeks, but surely that's a small price to pay to end high heel pain come Saturday night.
So there you have it stiletto lovers. It sounds like a no-no for needle phobes (myself included) but are you brave enough to give it a try? They do say no pain no gain after all...​ Let us know your thoughts on Twitter @soFeminineUK
Liked this? You might also like:
​The Kim Kardashian PRP Vampire Facial: Is It Really as Scary as It Seems?
This Blogger Showed Us The Reality Of Acrylic-nail Addiction And It Looks Painful AF
We Tried The ChinUp Mask To See If It Can Really Get Rid of Your Double Chin