Each season we sift through all the runway shows and break down all the must-try trends of the upcoming season. Why? So you won't have to. That's right, ladies. We take your (read: our) fashion addiction seriously.

After scouring hundreds of looks and being inundated with all things gorgeous, we were able to narrow it down to 10 hot trends for spring.

When we tell you we have pieces for everyone, we mean it. There's a little something for the sporty chick and the glamour girl. Oh, and if you're like us, and fall somewhere in between, spring 2015 also has something for you on tap. So there's literally no reason for you to not ooze tons of style.

What are you waiting for? Shop these trends now, and thank us later.
Gingham Girls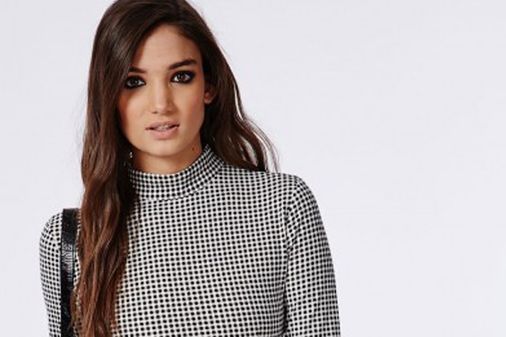 © Missguided
10 Fashion Trends You Should Try This Season
MissGuided High Neck Bodycon Dress l Forever 21 Collared Gingham Shirt l Lipsy Gingham Dress l Boohoo Gingham Oversized Shirt l Motel Mason Cropped Trouser in Gingham Check
When you see gingham print you probably immediately think of picnics. Trust us, we can relate. But that's what makes this so awesome. What better time to wear picnic print than spring? Altuzarra to Diane von Furstenberg, designers were all over this.
Military Movement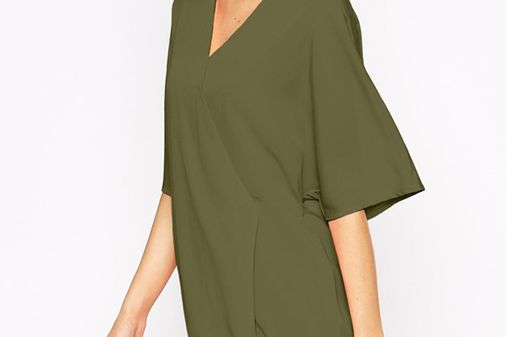 © ASOS
10 Fashion Trends You Should Try This Season
Vero Moda Wrap Dress | ASOS Trousers With Deep Waist In Textured Fabric | Missguided Faux Suede Cut Out Top | Zara Wrap Skirt | Warehouse Crepe Midi Dress
Think khaki and you will be bang on trend this season. From Marc Jacobs to Ralph Lauren designers were all over the military look for Spring 2015. Thankfully the colour Khaki is fast becoming a classic, so this is a trend that will see you thought many seasons to come.
Bare Shoulders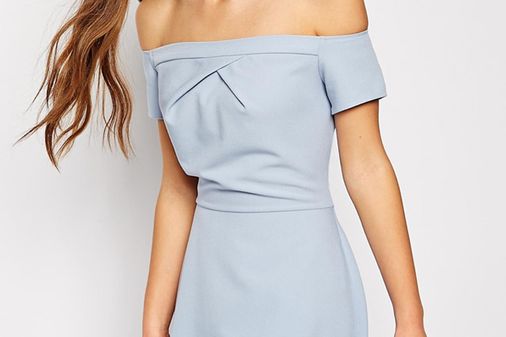 © ASOS
10 Fashion Trends You Should Try This Season
Asos Love Off Shoulder Dress with Pleated Neckline | Glamorous Off Shoulder Blouse | AX Paris Off Shoulder Dress | Asos Printed Off Shoulder Prom Dress | Long Tall Sally Crop Top
Thankfully we're heading into an era in fashion where subtlety goes a long way. Why put all your goods out there when you can be a tease with just a sliver of skin. Bare shoulders are the new sheer.
Polka Dots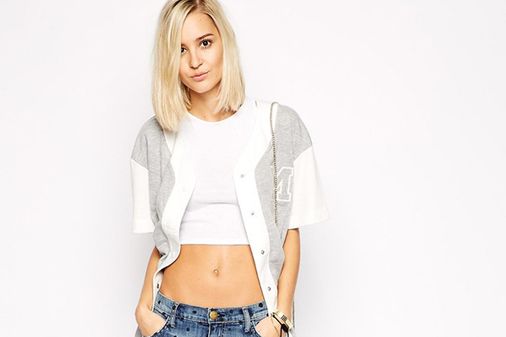 © ASOS
10 Fashion Trends You Should Try This Season
Current Elliott Fling Girlfriend Jeans With Polka Dot Print l Paper Dolls Polka Dot Tunic l Polka Dot Off The Shoulder Skater Dress l Polka Dot Silk Pini Dress l Organza Embroidered Polka Smock Dress
Although polka dots may not have had the strongest presence on the runway, street style stars and celebrities have been flocking to this print lately. From Kerry Washington to Zendaya Coleman, it seems like no one can get enough.

Minnie Mouse better watch out.
Athletic Details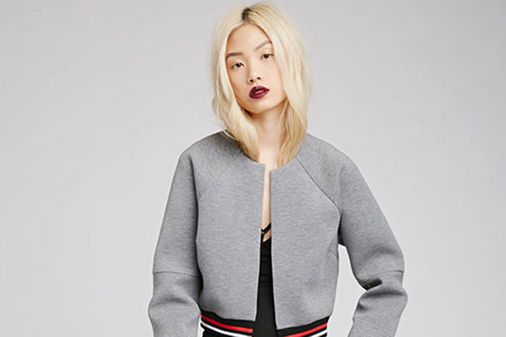 © Forever21
10 Fashion Trends You Should Try This Season
Forever 21 Varsity-Striped Scuba Knit Jacket l Mango Backpack l New Balance 410 Black Trainers l River Island Leather Look Cap | Missguided Ribbed Jumpsuit
Okay, does it get any better than athletic wear? It's the comfiest and most easy going of all the trends. If you're a girl on the go, who couldn't care less about getting glammed up, this one's for you. Sneakers feel like heaven on the feet and caps become super convenient on the days you'd rather die than do your hair.

What's not to love?
Striking Stripes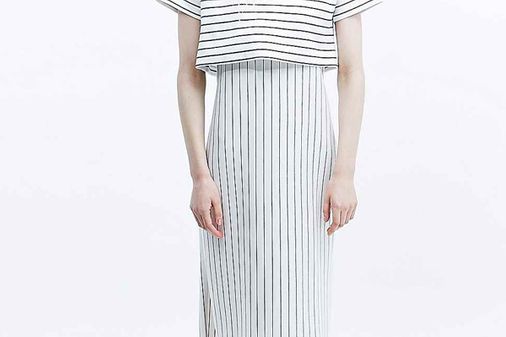 © Urban Outfitters
10 Fashion Trends You Should Try This Season
Urban Outfitters Pippa Lynn Stripe Tee Dress | ASOS First & I 70's Stripe Shirt | Y.A.S Skydriver Trousers in Stripe | Stripe Tonic Print Cigarette Trousers | Warehouse Stripe Fit and Flare Dress
Stripes have been around since the dawn of time and can skew painfully boring. We know. But for Spring 2015 they get a fresh spin; being bolder than ever before. Horizontal? Vertical? There's no need to choose. You can have it all in the very same piece.
Long Light Coats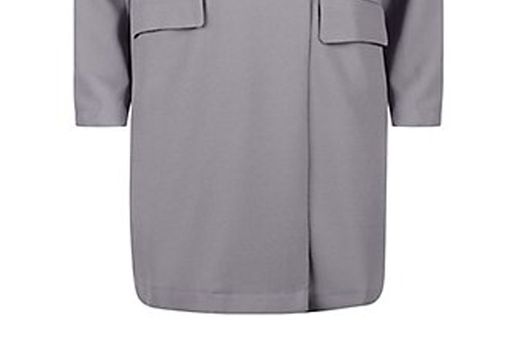 © New Look
10 Fashion Trends You Should Try This Season
Anita and Green Grey Duster Coat | Warehouse Duster Coat | ASOS Maxi Duster Coat In Print | Blush Open Sleeve Duster Coat | Topshop Floral Bloom Print Lightweight Coat
Spring is that awkward time when it's warm during the day and breezy at night. It can become stressful deciding what's weather appropriate. That's where long light coats come in to save the day. Perfect for keeping the evening chill at bay.
Denim Overload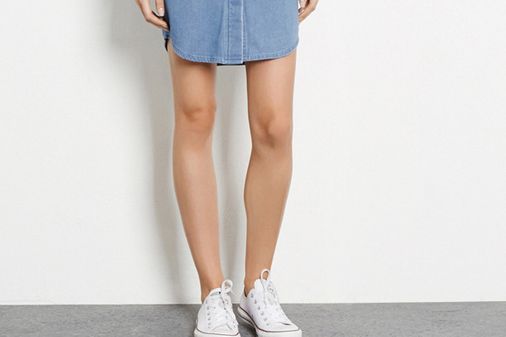 © Warehouse
10 Fashion Trends You Should Try This Season
Warehouse Denim Dress | Cheap Monday Dungaree Dress | MOTO Blue Jamie Jeans | Selected Katrine Jumpsuit in Lightweight Denim | Midi Wash Maddie Denim Mini Skirt
Look no further than Rihanna's "Four Five Seconds" video to know that denim is bigger than ever before. Go well beyond the basic jeans and overindulge. Think dresses and jumpsuits.
White Out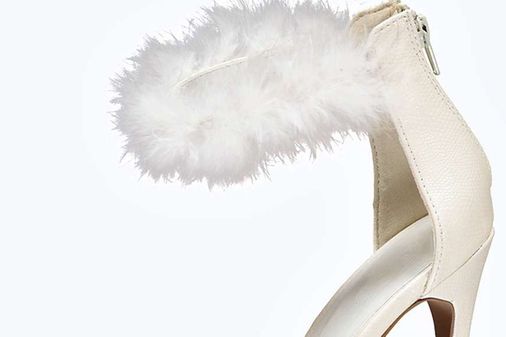 © Boohoo
10 Fashion Trends You Should Try This Season
Boohoo Fur Barley There Heels | Missguided Lace Dress | Topshop Curved Back Shirt | Daisy Street Jumpsuit | ASOS Structured Shopper Bag with Removable Clutch
There's always something so fresh and classic about an all white outfit. It also takes a very gutsy woman to pull it off. We mean, hello, you're very susceptible to stains. But nevertheless, we're rolling with this look over the next few weeks.
That 70s Show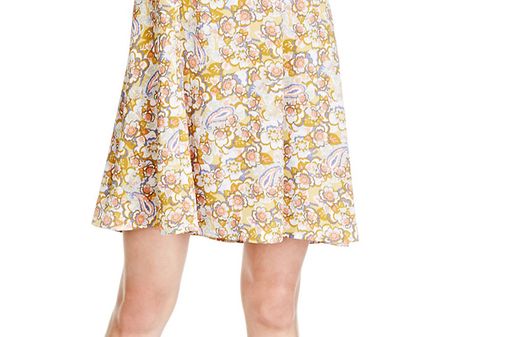 © Marks & Spencer
10 Fashion Trends You Should Try This Season
Paisley Print Shift Dress | Fringed and Studded Suede Bag With Shoulder Strap | ASOS Oversized Felt Fedora Hat | Leather Wooden Clogs | Marks & Spencer True 70's Flare
In case you haven't gotten the memo, this upcoming season it's all about the 70s. The key is to take it in bits and pieces. Don't overdo it.

Not sure what we mean? Here's how to pull this trend off without looking like you're in costume.
What trends are you excited to try this season? Tweet us @sofeminineUK

This article was written by Cliché. Follow her @CalamityCliche.
Trend Round Up: Spring/Summer 2015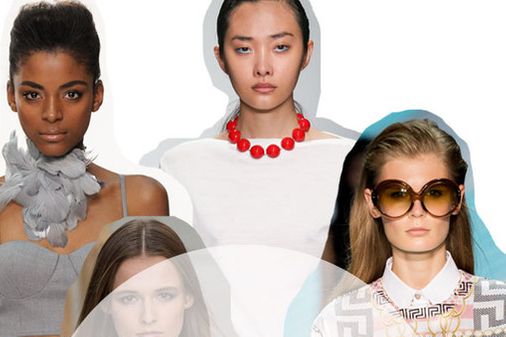 Fashion Trends 2015: The Details You Can't Miss!
You Might Also Like:
Spring Shopping Haul: The Must Have Items For Your List
23 Things That Go Down When Shopping In Zara