@MahoganyCurls
If you're anything like me you'll find yourself immediately lost in her flawless skin and enviable curls. This is hair porn at its finest. Seriously.
@TheSoulAsylum
Take a moment to honor Mel's twists because they are everything. How are you not following her already? Ugh.
@TarenGuy
Taren is the first natural hair guru I was introduced to on YouTube and I have since kept up with her, going all the way to Instagram. She knows what she's talking about when it comes to tresses, and for that alone she is invaluable!
@OwnByFemme
Well traveled, intelligent,with killer hair to boot.
@NeffyFroFro
From straight 'dos, to twist outs, to box braids, Ms. Laila-Jean has something to inspire everyone. This photo right here captures what I loved about her page. It embodies beauty mixed with adventure and travel.

You can also find her on YouTube doing tutorials and product reviews at FusionofCultures.
@ForeverFlawlyss
Oh, girls... This woman's curls? Unreal. You'll also notice that Alyssa's face is always beat with flawless makeup. Get your hair and all around beauty needs met with this talented soul.
@MandaJessPanda
What do I love most about her? Versatility. Head to her feed to see what I mean.
@Rock_Yo_Rizos
Get your life. All of it.
@CiprianaQuann
I actually weep at Cipriana's beauty. I just...

Pass the tissues, please.

(FYI: She's one of the founders of Urban Bush Babies)
@SunitaV
Can you dig it?
@HeatFreeHair
When a friend of mine recommended I follow @HeatFreeHair I immediately expressed my gratitude. The only problem? I couldn't stop scrolling. No lie. There's just so much beauty to be found there.
@MsJWilly
Great hair, that skin, AND a correspondent for the Daily Show? Here's another instance of life proving how unfair it is.
@UrbanBushBabes
Just look at this. How could you need further convincing?
@HeyFranHey
Saying Fran offers incredible hair tips is far from doing her due justice. On her feed you can find skincare tips, motivational quotes,healthy recipes, and so much more. She is inspirational, inspirational is her.

Run, don't walk to her page!
What are some of your fave Instagram accounts? Tweet us @sofeminineUK!
50 Of The Hottest Celebrity Braided Hairstyles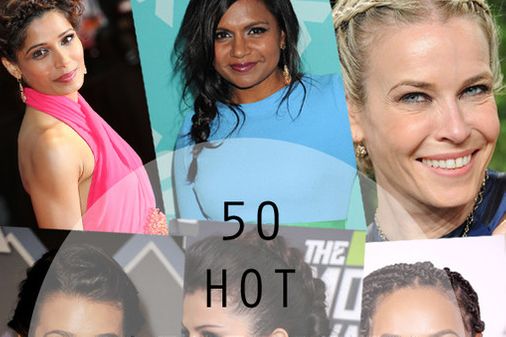 © Getty
Celebrity Braided Hairstyles
You Might Also Like:
25 Stages Black Girls Go Through When Getting Braids
22 Instagrams To Follow For Your 2015 Beauty Inspiration
The Social Media Lie: What We Instagram vs. What Actually Happened